Drug consignment with street value of Sh100 million Disappear From JKIA
Drug consignment with street value of Sh100 million Disappear From JKIA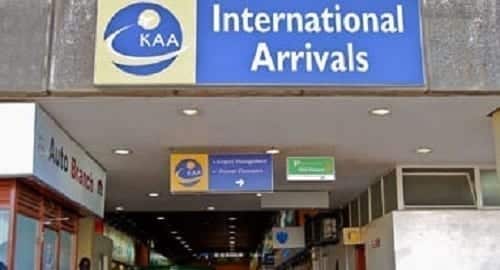 A drug consignment with a street value of Sh100 million has mysteriously vanished from the Kenya Airways storeroom. The shipment of Ephedrine Hydrochloride weighing 100 kg was imported by a Kenyan pharmaceutical company from Bangkok on November 18 and reported missing on November 21 when the owners came to collect it under armed guard.
The pharmaceutical company went to Jomo Kenyatta International Airport to collect the consignment only to discover that the high-security store was empty. Police are investigating how the Ephedrine could have been stolen from the Kenya Airways vaults.
Airport CID boss Joseph Ngisa confirmed that they are investigating the theft of the drugs that are used in manufacture of prescription medicines. Ephedrine Hydrochloride is commonly used in cough medicine and nasal decongestants as it is a "bronchodilator" that helps breathing.
However, there is a large black market for Ephedrine because it is also a powerful stimulant, similar to amphetamines, that improves concentration and wakefulness. It is also used by some professional athletes and weightlifters to shed excess weight.
Two weeks ago the Pharmacy and Poisons Board warned that Ephedrine Hydrochloride is being imported by pharmacists for medical purposes but ending up in the wrong hands. Ngisa put the value of the stolen consignment at Sh600,000.
Two weeks ago, the Pharmacy and Poisons Board registrar Kipngetich Koskey appeared before a parliamentary committee chaired by Nyaribari Chache MP Robert Monda. He said a kilogramme of Ephedrine had a street value of US $1500 (Sh135,000).
That would make the stolen consignment worth Sh13.5 million but other sources said the street value of the drug for recreational purposes would be worth at least Sh100 million.
Koskey told MPs that Ephedrine is used to prepare a drug popularly known as Mchele or Tap Tap. Criminals use it to stupefy bar patrons before robbing them.
By yesterday JKIA police had recorded statements of workers and storekeepers at the Kenya Airways warehouse at JKIA. The Kenya Airways warehouse observes strict security and any importer or clearing agent entering the warehouse has to be accompanied by airport staff. The police were yesterday scheduled to meet with the importers to record further statements.
An employee of the importer, whose identity police would not reveal, told JKIA police on November 21 that the chemicals they had imported had been substituted with a powder. Drugs destined for other countries often mysteriously disappear in Kenya while in transit, Kosgey said.
He gave an example of 500 kilos of Ephedrine en-route to Nigeria aboard Kenya Airways from Amsterdam that is suspected to have been stolen in Kenya. "Nigeria was importing the drug through Kenya, but when the plane reached Nigeria the only thing they found were documents but the consignment had disappeared," Koskey told the House committee. The registrar tabled documents on 15 cases where drug substances have been stolen.
The importers include GlaxoSmithKline, Pharmaceuticals Ltd, Dawa Ltd, Cosmos Ltd, Universal Corporation, Biodeal Laboratories, Regal Pharmaceuticals, Laboratory and Allied and Sphinx Pharmaceuticals. The substances targeted include Ephedrine Hydrochloride, Pseudoephedrine, Sodium Saccharin, Metronidazole, and Quinine Sulphate.
The substances are imported by licensed drug manufacturers for noble use but have a high mark-up value for criminals. The Pharmacy and Poisons Board said it is in the process of phasing out some substances that can easily be abused by criminals
Source- http://www.the-star.co.ke
Drug consignment with street value of Sh100 million Disappear From JKIA