Video-Uhuru Kenyatta ranked 26th among Africa's richest
Video-Uhuru Kenyatta ranked 26th among Africa's richest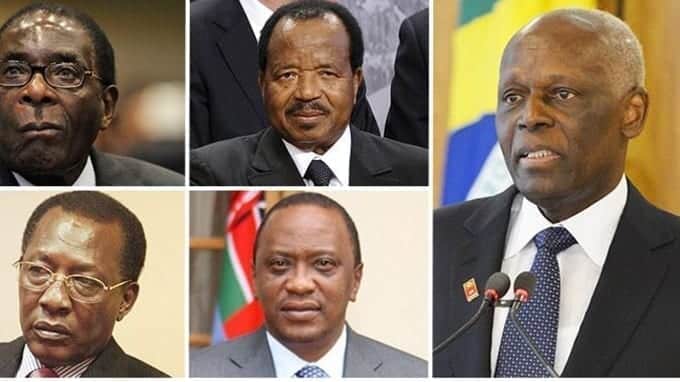 Politician Uhuru Kenyatta and businessman Chris Kirubi are the Kenyans that have made the list of 2011 Africa's 40 Richest, a compilation of the well-respected Forbes' Magazine. Uhuru comes in at number 26 with a net worth of $500M while Kirubi is slotted at position 31 with $300M. The combined wealth of the 40 richest is $64.9 billion – more than Thailand's 40 richest (at $45 billion) but less than Taiwan's (at $92.7 billion).
Kenya's Deputy Prime Minister Uhuru Kenyatta is the son of Kenya's first president, Jomo Kenyatta, and heir to some of the largest land holdings in Kenya. He owns at least 500,000 acres of prime land spread across the country. The land was acquired by his father in the 1960s and 1970s when the British colonial government and the World Bank funded a settlement transfer fund scheme that enabled government officials and wealthy Kenyans to acquire land from the British at very low prices. Uhuru and his family also own Brookside Dairies, Kenya's largest dairy company, as well as stakes in popular television station K24 and a commercial bank in Nairobi, among other interests.
Kenya's most flamboyant tycoon, Chris Kirubi got an early start buying up small, dilapidated residential and commercial real estate in Nairobi, then renovated the properties and flipped them for a profit. He now owns Nairobi's landmark International House building, one of the city's longest standing and most prestigious commercial properties, as well as several other commercial and residential buildings in Nairobi. Other assets include a 49% stake in Haco Tiger Industries, which manufactures consumer products; a controlling stake in Centum, a Nairobi Stock Exchange-listed private equity firm; UAP Insurance, one of Kenya's largest insurance companies and Sandvik East Africa, a Kenyan construction firm. Also owns the DHL Franchise in Kenya, and Capital FM, Kenya's most popular radio station. Devout disciple of social media keeps active Twitter and Facebook accounts. Avid golfer.
The richest among them is Aliko Dangote of Nigeria, with a $10.1 billion fortune based on his stake in publicly-traded Dangote Cement –which has operations across Africa — as well as his interests in flour milling, sugar refining and salt processing. Behind him at number two is South African diamond magnate Nicky Oppenheimer, with a $6.5 billion fortune. Oppenheimer decided in early November to sell the family's remaining stake in diamond miner DeBeers to mining behemoth Anglo American, ending more than 80 years of family ownership. In a small world twist, Anglo American was founded by Nicky's grandfather in 1917, making for very deep ties between the companies.
Dangote and Oppenheimer are two of 16 billionaires among Africa's 40 richest.Egypt boasts the largest number of billionaires in Africa, with 7 (primarily from two families—the Sawiris and Mansours). South Africa, the African country with the biggest gross domestic product (an estimated $357 billion in 2010), is second with 4 ten-figure fortunes but it has bragging rights as home to the most list members—15. Egypt comes in second with 9 list members while Nigeria has 8 and Morocco has 5. Altogether six African countries are represented in the list. Notable for their absence from the list: women. All 40 members are men. Their average age: 61.
One-quarter of the 40 have diversified fortunes, either through outright ownership of a conglomerate (like Egypt's Mansour family) or via ownership of assets in diverse realms, such as Nigerian Mike Adenuga, whose fortune comes from his telecom company Globacom and his oil producer Conoil. The second biggest industry is finance, accounting for the fortunes of 8 list members, with a heavy representation from South Africa. Six made their fortunes in retailing.
Resource-hungry China directly boosted the fortune of just one list member –Theophilus Danjuma, who in 2006 sold a 45% interest in an oil block to CNOOC, China's overseas oil company, for $1.7 billion.
RankName     Net Worth ($mil)  .     Age
1     Aliko Dangote     10,100     54     Nigeria
2     Nicky Oppenheimer & family    .     6,500     66     South Africa
3     Nassef Sawiris     4,750     50     Egypt
4     Johann Rupert & family     4,700     61     South Africa
5     Mike Adenuga     4,300     58     Nigeria
6     Miloud Chaabi     3,000     82     Morocco
7     Naguib Sawiris     2,900     57     Egypt
8     Christoffel Wiese     2,700     70     South Africa
9     Onsi Sawiris     2,600     81     Egypt
10     Patrice Motsepe     2,500     49     South Africa
Rank   .     Name     Net Worth ($mil)  .     Age
11     Othman Benjelloun     2,400     79     Morocco
12     Anas Sefrioui     1,750     54     Morocco
13     Mohamed Mansour     1,700     63     Egypt
14     Yasseen Mansour     1,550     50     Egypt
14     Youssef Mansour     1,550     66     Egypt
16     Mohamed Al Fayed     1,300     78     Egypt
17     Jim Ovia     775     57     Nigeria
18     Lauritz (Laurie) Dippenaar       .     750     63     South Africa
19     Shafik Gabr     730     59     Egypt
20     Stephen Saad     640     47     South Africa
Rank   .     Name     Net Worth ($mil)  .     Age
21     Theophilus Danjuma     600     72     Nigeria
22     Alami Lazraq     575     61     Morocco
23     Samih Sawiris     560     54     Egypt
24     Oba Otudeko     550     67     Nigeria
25     Raymond Ackerman     545     80     South Africa
26     Uhuru Kenyatta     500     50     Kenya
27     Gerrit Thomas (GT) Ferreira    .     460     63     South Africa
28     Hakeem Belo-Osagie     450     56     Nigeria
29     Abdulsamad Rabiu     400     NA     Nigeria
30     Mohammed Indimi     330     63     Nigeria
Rank   .     Name     Net Worth ($mil)  .     Age
31     Chris Kirubi     300     70     Kenya
31     Jannie Mouton     300     64     South Africa
33     Michiel Le Roux     290     62     South Africa
34     Adrian Gore     280     47     South Africa
35     Strive Masiyiwa     280     51     Zimbabwe
36     Cyril Ramaphosa     275     59     South Africa
37     Giovanni Ravazzotti                .     275     68     South Africa
38     Mohamed Bensalah     270     41     Morocco
39     Markus Jooste     260     50     South Africa
40     Paul Harris     250     61     South Africa
METHODOLOGY
The list focused on citizens of African countries –thereby excluding potential members like Sudanese-born billionaire Mo Ibrahim, who's a U.K. citizen; South African-born Ivan Glasenberg (the CEO of commodities trader Glencore, who is an Australian citizen) and former South African billionaire Donald Gordon (who has become a British citizen and lives in the U.K.). We calculated the fortunes using stock prices and currency exchange rates from close of business Wed. November 2. To value privately-held businesses we couple estimates of revenues or profits with prevailing price-to-sales or price-to-earnings ratios for similar public companies.
We have purposely excluded dispersed family fortunes such as the Chandaria family of Kenya and the Madhvanis of Uganda, because the wealth is believed to be held by dozens of family members. We do include wealth belonging to a member's immediate relatives if the wealth can be traced to one living individual; in that case, you'll see "& family" on our list as an indication.
The following contributed to the research
Reshu Bagga, COO, Proshare Nigeria
Stephen Cranston, Trustee, Avusa Pension Fund, South Africa
Uduak Edet, Independent Real Estate Agent, Kenya
Peter Kanyango, Finance Analyst, Standard Chartered Bank, Kenya
Andrew MacGregor, publisher, Who Owns Whom, South Africa
Larry Madowo, Business Journalist, Nation Media Group, Kenya
Chukie Gboneme, Real Estate Analyst, Nigeria
Emeka Okafor, Private Equity Analyst, RenCap, Kenya
Akanna Okeke, Financial Analyst, Skye Bank, Nigeria
Paul Okwudiafor, Energy Analyst, Oando PLC, Nigeria
Video-Uhuru Kenyatta ranked 26th among Africa's richest