Kipchoge Keino given city's highest honour in Bristol UK

Kipchoge Keino given city's highest honour in Bristol UK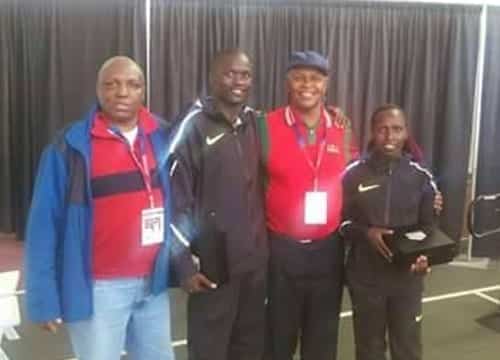 Few people have been given Freedom of the City of Bristol, but today, the Kenyan distance runner, Kipchoge (Kip) Keino, will receive the city's highest honour. A hero in his own country and widely regarded as one of the greatest athletes across the world, it was during the 1968 Olympics in Mexico City that the Kenyan distance runner announced his arrival on the world stage.
Kip Keino will be given freedom of the city of Bristol this evening Credit: ITV West Country
Keino beat favourite, American Jim Ryun, to take the gold medal in the 1,500 metres, having already run two miles to the stadium after getting stuck in traffic. He collapsed at the Games during the 10,000 metre event just days before and finished the race despite being disqualified. He went on to win a silver medal in the 5,000 metres. Four years later he won his second Olympic gold in the 3,000 metre steeplechase at the 1972 Olympics in Munich, Germany. During his career he also won three gold medals in the Commonwealth Games.
Now the President of the Kenyan Olympic Committee he is being made a Freeman of the city to mark the arrival of the Kenyan Olympic and Paralympic teams, who are staging their training camps in the city. The Kenyan athletes arrived at UWE yesterday. Eighty volunteers have been recruited to look after the team of around 40 athletes and officials during their stay at UWE Bristol's Frenchay Campus.** **
The Kenyan Olympic team arrived in Bristol yesterday. Credit: Bristol City Council
Keino, who has a stadium named after him at Filton College, will be awarded the honour by Bristol City Council. The Kip Keino Stadium is one of only six venues in the Southwest that has UK Athletics class 'A' certification for its athletics facilities. A £1.3 million investment turned a former training track into a competition-standard athletics ground.
He follows in the footsteps of civil rights campaigner Paul Stephenson, politician Tony Benn, Wallace & Gromit animator Nick Park and Bristol balloon maker Don Cameron, who have all been awarded Freedom of the City.
Keino will receive the Freedom of the City of Bristol at a special ceremony this evening at the Council House. It follows being made an honorary Doctor of Law by the University of Bristol in 2007.
Kip Keino is one of the world's greatest athletes. His long association with the City of Bristol and his ability to inspire our young people will be formally acknowledged tomorrow by the conferring of the Freedom of the City. It is the highest honour we can bestow – and it is right and fitting that Kip Keino's name should be added to our Roll of Honorary Freemen of the City.
– Bristol's Lord Mayor, Councillor Peter Main
The father-of-seven retired from the track in 1973 and has since set up the Kip Keino Foundation, which encompasses an orphanage, two schools and a farm.
Source:itv.com
Kipchoge Keino given city's highest honour in Bristol UK