Developer unveils Sh3 billion, 22-storey luxury apartments in Nairobi
Developer unveils Sh3 billion, 22-storey luxury apartments in Nairobi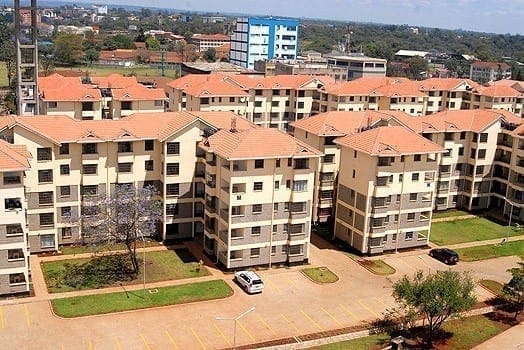 A private developer has unveiled a Sh3.5 billion luxury apartments block in Nairobi targeting high-income tenants and home buyers.
Construction of the 22-storey building along Waiyaki Way in the City's Westlands neighbourhood has begun.
The building, expected to be complete in 2015, is set to be among the tallest in the area.
It will provide a mix of office and retail space on the lower floors, and one- and two-bedroom residential apartments in the 16 upper floors.
Ravi Vasta, a director of Mark Properties, the firm that owns the project, said the Dubai-styled housing project is targeting wealthy buyers and renters seeking accommodation in exclusive environment.
"We have huge demand for luxury apartments in this market but the ordinary apartments offer nothing close to what is required," said Mr Vasta, adding that the top floor will host an elevated swimming pool and a sky club for the residents.
One-bedroom apartments are selling at between Sh14.4 million and Sh15.5 million depending on the floor, where the homes in the higher floors are costlier on the argument that they offer wider views of the city.
Comparable one-bedroom apartment in the area would cost about Sh8 million.
Mr Vasta says that the family-owned firm which has been involved in property development for nearly a decade will provide the bulk of the financing for the mega project but expects that any shortfalls would be plugged using bank loans and proceeds from pre-sales.
The developers expect to keep about half of the 170 apartments, while the rest will be available for sale.
"Luxury apartments will attract more than double the rental income for a comparable standard furnished apartment," he said, projecting that the one bedroom unit will generate over Sh150,000 in rental income per month.
Average Le Mac, as the housing project is called is expected to be the highest rising residential apartment in Nairobi as more developers low density family dwellings in close proximity of the city centre owing to soaring land prices.
An acre of land in most prime estates is now selling at about Sh250 million, with dealers attributing the price hikes to huge demand for serviced land from developers.
High land prices have prompted a re-zoning of several city estates that have in the past been preserved for middle income households, with single family homes making way for high-rise apartments.
Source: Business Daily