Photos: Impressive, Check Out The Flashy Cars Team Uhuru Is Driving
Photos: Impressive, Check Out The Flashy Cars Team Uhuru Is Driving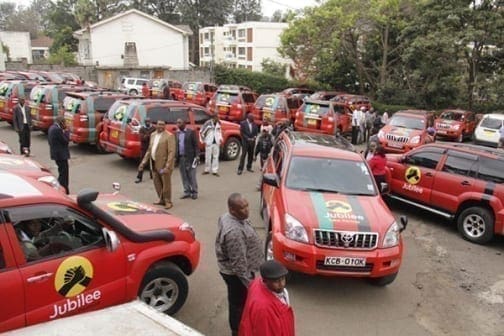 A lot has been said about how much Uhuru is using for his campaigns, with some people claiming it is in the region of Sh30 billion… And just looking at the rallies Jubilee is holding, you may be tempted to believe them (those saying it's Sh30 billion). TNA's launch is believed to have cost anywhere between 100 and 200 millionshillings. Every week, Jubilee is holding several rallies, either joint or separate URP and TNA rallies. Either way, it has been claimed that the son of Jomo foots the bill, even URP's.
This includes the MP's allowances, rumoured to be over 100,000 per MP per rally, public address hiring (assuming they haven't bought their own), paying the performing artistes, among many other fees.
After all is done, Uhuru's campaign team still has money left to buy flashy campaign toys, and Team Uhuru is not shy of showing them to their Facebook fans. Check them out.
 Source: Nairobi Wire
Photos: Impressive, Check Out The Flashy Cars Team Uhuru Is Driving