University of Oklahoma mourns the death of Kenyan professor
University of Oklahoma mourns the death of Kenyan professor
Students and faculty at the University of Oklahoma's Norman campus mourn the loss of Associate Professor emeritus, Jidlaph G. Kamoche, who died last week at his home in Norman. James S. Hart, Jr., chair of the Department of History, declared that his department had lost an important and pioneering teacher in an area unknown to many Americans. He was a fixture of campus life from his arrival on campus in 1977 to serve as the first Director of the African/African-American studies program here.
Kamoche led the program until 1990, but Jeanette Davidson and George Henderson report that he remained a steadfast supporter of the program. He is best remembered for his tireless devotion to teaching about the African continent. As his colleague in the study of Africa, sociologist Loretta Bass, remembered, "Professor Kamoche's courses on the history of South and Eastern Africa were popular with serious students of the continent." In addition to inspiring many students to pursue graduate work in Africa, Kamoche was a generous mentor to younger faculty, especially those who came to OU from their countries. Catherine John, a Jamaican immigrant to the United States who serves as chair of the English Department, "it was a comfort and a pleasure to converse with Jid Kamoche whenever the opportunity presented itself. I knew he would understand the political and social landscape of the world from a similar perspective … I will miss my African brother intellectual who, like many of us, moved away from home and made a new life; but always longed to return. I hope he is there now."
Kamoche was born and raised in Kingeero, near Nairobi, Kenya. He received his primary and secondary education in Kenya. He received a scholarship to pursue higher education in the United States and attended Amherst College where he received his Bachelor of Arts in History in 1967. He earned his Masters of Arts in History from the University of Massachusetts in 1969 and his doctorate in history from the State University of New York at Buffalo in 1977.
Before coming to the University of Oklahoma in 1977, he served as the Director of the African and African-American Studies Program, and taught African and African-American history at University of New York at Buffalo. He was the author of Imperial Trusteeship and Political Evolution in Kenya, 1923-1963 (Washington, DC: University Press of America, 1981). For ten years, he authored short articles on contemporary Kenyan history. The articles were published in Collier's Encyclopedia Year Book. He presented papers at the African Studies Annual Conferences. At the time of his death he was at work on a second book, Mau Mau and Decolonization in Kenya, 1945-1963.
He leaves behind many memories, friends and loved ones. He was a passionate supporter of OU Football and taught many of the players over the years. Jid is preceded in death by his parents Esther Nyakio and Nelson and brothers James and John. He is survived by his wife, Njambi and two children, Nyakio (Kio), her husband David, Kamoche (Moche), three grandchildren Kaya, Luisa and Rocco, three sisters, two brothers and many nieces and nephews.
A service to celebrate his life will be held at 11 a.m., Saturday November 9, 2013 at Havenbrook Funeral Home Chapel, 3401 Havenbrook Street in Norman. Family will greet visitors 5-7 p.m. on Friday at the Havenbrook Funeral Home.
In lieu of flowers, the family requested that donations be made to The University of Oklahoma Foundation, Inc., please note Kamoche Memorial Fund in memo. The address for the Foundation is 100 Timberdell Road Norman, Oklahoma 73019. Funds will go to support an OU History student to pursue research or education abroad.-ou.edu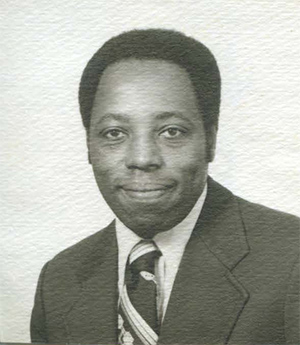 University of Oklahoma mourns the death of Kenyan professor