Professor who could not live without love-commits suicide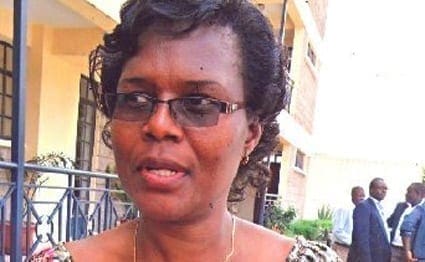 Police are investigating the circumstances under which a university lecturer committed suicide by jumping into a river.
Mrs Pamela Jaoko K'Ouko, 50, a senior lecturer in  Zoology at Maseno University, was yesterday found dead at Ndanu Falls on River Yala in Gem after a week-long search.
She went missing on Wednesday, December 18, but the family reported the matter to police on Saturday after they failed to trace her, said Kisumu criminal investigations boss Henry Ndondi.
"We tracked her last contacts, which led us to Yala Resort, where her car was parked. We found an elaborate suicide note in it. She must have planned to kill herself at Ndanu Falls, where she was found dead," he said.
Relatives said the mother of three did not come back home after work on Wednesday and that her phone was switched off and her car could not be traced.
In the note that was found in a diary, the lecturer said she had been struggling to keep her strained marriage together and that she could not cope with the pain of a failed marriage, Mr Ndondi said.
Newspaper cutting
Frequent visits to a marriage counsellor had not helped, the note, which was attached to a newspaper cutting of a suicide story, said, according to the police officer.
In the note, which had her husband's phone number with instructions that he be contacted in case of anything, she had marked the dates she had visited marriage counsellors in red and blue."God has given a husband, children and investments. Changed Pamela," she wrote in the diary.
Her husband, Dr Evan K'Ouko, a radiologist and a former lecturer at Maseno, however, denied the couple had domestic problems, saying: "We did not have any wrangles. Everything was normal."
Police said Mrs K'Ouko was last seen driving around Yala Town. She asked motorcyclists, commonly known as boda bodas, where she could park her car and they directed her to the nearby Yala Resort.
She then hired one of them to take her to Ndanu Falls on River Yala, saying she was going to conduct research. That was the last time she was seen alive.
The cyclist who took Mrs K'Ouko to the falls on Friday led Dr K'Ouko and CID officers to the exact spot where he had left her.
A thorough search of the area led them to the lecturer's decomposing body, which was spotted by her uncle, Mr Eliud Owino. The cyclist said the lecturer had asked him to come back for her after 40 minutes.
Last moments
"I saw her toes stretching out of the water and I quickly concluded she was the one. It has been a traumatising search. I was willing to go any depth to find Mrs K'Ouko, who was my confidant," said a sobbing Mr Owino.
A shocked Dr K'Ouko recounted his last moments with his wife, saying he had left late for work on the day she disappeared after having breakfast with her.
"We had our usual breakfast then I left for work at 8.30am. I am told she left an hour later. In the evening, I waited for her to come back but she never returned," he said.
The couple had three children — two in university and one in high school.
A family friend, who requested anonymity, said the lecturer had confided that she was facing difficulties in her marriage.
She quoted her saying: "I cannot stand to see my family break up. I'm watching it deteriorate and I'm not happy. I sense doom in it."
She added that the death came as a shock to her, adding: "I did not, however, suspect that Pamela would do that. She was such a strong lady."
Mr Philip Ochieng', the Chief Technologist in the Zoology Department, said the lecturer was in a jovial mood on the Wednesday she disappeared and that he had overheard her saying: "Since the departmental meeting has been postponed, I will take some students' scripts to mark at home."
He said the lecturer could not stand to see someone in distress and always had kind words for families in trouble. He added, however, that though the woman was sociable, she was an "unpredictable introvert."
"You would never read her steps, neither would she over-expose deep issues surrounding her and her family," he said. "I saw her last open the door to her office. The next thing I heard was about her disappearance."
Dr Paul Oyieng, another colleague, said she had told them she was unwell and had asked them to supervise the end of semester examinations for her.
"She then turned up for the end of semester meeting at the department. She looked vibrant but a closer look seemed to suggest she had a psychological problem. She was withdrawn," he said, adding that she had hinted at matrimonial hardships she was going through to a female junior colleague who went through a divorce recently.
Relatives  said the zoologist was strong-willed and calm.
"She was a strong woman and a counsellor to us. We are wondering what drove her to her death," Mr Ben Onyoro, Mrs K'Ouko's brother, said.
–nation.co.ke
Professor who could not live without love-commits suicide