VIDEO: Uhuru Lectures Bishop During Ole Ntimama's Burial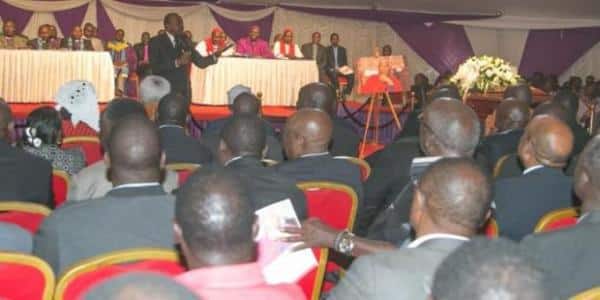 President Uhuru Kenyatta on Wednesday baffled many when he lashed out at a Bishop during the burial of former Cabinet Minister William Ole Ntimama in NarokCounty.
When Kenyatta took to the podium to address the mourners, he steered clear of politics but singled out one Bishop who had spoken earlier and implied unity was more important than development.
"Kuna Bishop mwingine hapa sijui ni nani lakini nataka tujuane ambaye amesema umoja mbele ya maendeleo..mi nataka nikuambie Bishop kwa sababu wewe unataka uongoze roho..lakini kuongozaroho lazima pia uongoze maisha ya watu."
Loosely translated as; "There is a Bishop here, I don't know who he is but I would like to know him, he said that unity is more important than development. Let me tell you this because you lead on spiritual matters, you also need to improve people's lives," Kenyatta said
The Head of State agreed with the Bishop that unity was important, but contradicted his opinion that unity was more crucial than development.
"Umojani kitu muhimu..muhimu sana…na mimi naungana na wale wote ambao wanasema tuwe naumoja ya wamaasai..tuwe na umoja ya wakenya..lakini umoja bila maendeleo hiyo ni ujinga yamwisho…(Unity is crucial. I concur with those who support unity among the Maasai and Kenyans in general…but saying Unity without development, is stupidity of the highest order)," the President stated.
After lecturing the Bishop in question, Kenyatta could not resist the temptation to fire a political jibe at Opposition leader Raila Odinga.
Earlier while dressing the mourners, Raila claimed that the late Ntimama had called him to affirm that he was not joining Jubilee, just after he had led a delegation of Maasai leaders to State House in August.
The President responded and stated that he had an agreement with Mzee Ntimama and he would honour it by working with the people the late Cabinet Minister had advised him to work with.
Kenyatta advised Raila to leave his Jubilee party alone and first organise his party then meet on the political field.