Co-Pilot Hijack Ethiopian Airlines to get asylum in Switzerland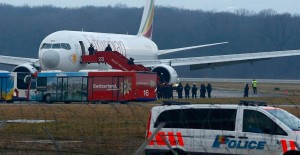 Rome-bound passenger jet was "forced to proceed" to Geneva early Monday when its co-pilot took control of the aircraft while the pilot was in the bathroom, an official said.
Geneva airport chief executive Robert Deillon told reporters that the co-pilot — an Ethiopian who wanted to seek asylum in Switzerland — locked himself in the cockpit after taking control.
The co-pilot then left the Ethiopian Airlines Boeing 767 through a window on a rope.
Geneva police spokesman Eric Grandjean said that when the co-pilot approached officers on the ground he "announced that he was himself the hijacker.
The hijacking began over Italy, Switzerland's southern neighbor, and two Italian fighter jets were scrambled to accompany the plane, Deillon told the AP. Passengers on the plane were unaware it had been hijacked, officials said.
Earlier, police told The Assocated Press that Flight ET-702 made an unscheduled landing in the Swiss city at 6 a.m. local time (midnight ET) and an alleged hijacked was arrested. Police spokesman Jean-Philippe Brandt added that nobody on the flight was injured.
The Boeing 767 airliner had issued a coded signal to air traffic controllers to report it had been hijacked, according to monitoring website Flightradar24.
The AP cited Cairo airport officials speaking on condition of anonymity as saying the pilot informed the control tower at Abu Simbel in southern Egypt that the aircraft had been hijacked.
In a statement, Ethiopian Airlines said the plane has been "forced to proceed to Geneva."
It added: "All passengers and crew are safe."
Police escorted passengers one by one, their hands over their heads, from the taxied plane to waiting vehicles, according to the AP.-nbcnews.com