New Lupita movie "Non-Stop" opens in US Friday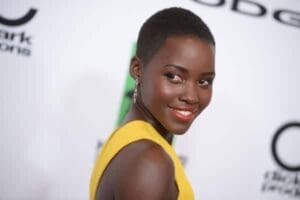 Kenyan actress Lupita Nyong'o will once again hit the big screens this weekend as her new movie Non-Stop opens across the US.
Lupita is featured as an air hostess in this action thriller that is mainly confined to a plane flying from New York to London.
During the transatlantic flight, US Federal Air Marshal Bill Marks (Liam Neeson) starts receiving a series of mysterious texts demanding that he instructs the government to wire Sh 13 billion ($150 million) into an off-shore account.
The text messages state that until the money is wired, a passenger will be killed every 20 minutes.
As Marks tries to locate the source of the text messages, the first passenger is killed with another text message reiterating more deaths to follow if the transaction is not completed.
However, as Marks searched for the passenger responsible, the US government officials who he had relayed the message to discovered that the off-shore account they were supposed to route the money to was registered under his name.
TREATED AS MAIN SUSPECT
Marks insists that he is being framed but he is now being treated as the main suspect and fighter jets are scrambled and can be seen surrounding the plane.
In this movie, unlike in 12 Years a Slave, Lupita's role is not as pronounced and is mostly seen as an extra.
She does most of her talking off-camera mostly making announcements through the plane's public announcement system.
The longest on-camera and in focus segment she is featured in is towards the end of the movie when she is trying to get a little girl to come out of hiding at the back of the plane.
The movie has so far received mixed reviews from movie critics in the US but is still expected to rake in millions of dollars following in the footsteps of Neeson's two previous movies Taken andTaken 2.
On Sunday March 2, Lupita will be in Los Angeles where she will battling Hollywood actress Jenifer Lawrence for the Best Supporting Actress honor in this year's Academy Awards otherwise known as the Oscar awards.
Lupita is currently considered a safe bet to win the honors but many entertainment analysts say that they would not be surprised if Jenifer wins.
The Kenyan actress is also expected to scoop the Best Supporting Actress award at the Independent Spirit Awards which will be held the evening before the Oscars and on her 30th birthday.-nation.co.ke