Equity Bank eyes Diaspora with new money transfer service

Equity Bank has unveiled an online low cost money transfer service that targets the European market. The on-line multi-currency money transfer service dubbed Equity Direct is currently operational in UK.
A partnership between the bank and VFX Financial, a UK firm, will see a transaction fee for the service between Sh142 (1 Pound) being the lowest and Sh568 (4 Pounds) the highest.
There are no deductions or charges on arrival at the Equity Bank account and only UK residents can register as remittance is from UK to Kenya and not vice versa.
Customers can send money in major world currencies of their choice from the comfort of their homes or office as long they have internet access and is received in real time.
Speaking on Monday during the signing ceremony, Equity Bank CEO James Mwangi said the online Money Transfer service is focusing on the UK market as it is one of the key remittance corridors for Kenya.
He said Equity Bank has invested heavily in creating infrastructure for Diaspora remittances, and banking and transaction processing by connecting to all global payment systems as a result of installing a robust system that allows for the innovation of products and services.
"Equity Bank is controlling 16 percent of all Diaspora remittances, and we are working towards scaling this to 30 percent by the end of 2014.
"We see Equity Direct as democratising money remittance by enabling cheap and instant transfer direct into the beneficiaries account," Dr Mwangi said.
He added "Equity Bank is a key player in facilitating remittance to Kenya. We want our customers in and out of the country to have the different options of remittance that is most convenient to them".
Mwangi said the beneficiaries of remittances via Equity Direct who do not have an account with Equity Bank will have their money wired to their bank accounts with no additional cost.
VFX Financial Chief Executive Nick England said the uptake of Equity Direct during the pilot phase has been very high with UK residents being able to remit millions of shillings in the last three month of piloting in the country.
He said in the next six months the service will be available in other European countries. "We are delighted to deliver such a convenient and transparent low cost remittance solution which results in more money arriving to Kenya from the UK faster and easily," Nick said.
He said those wishing to send money to Kenya from the UK and don't have an Equity Bank account will be facilitated by VFX Financial to open an account with the Bank.
Nick said VFX Financial has ensured that Equity Direct is flexible enough to allow low remittance of Sh1,420 (10 pounds) and below.-nation.co.ke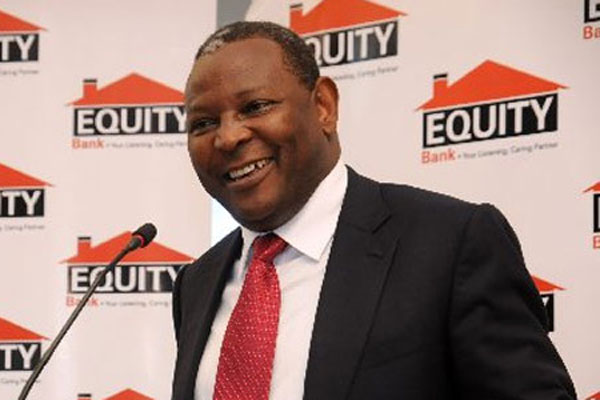 Equity Bank eyes Diaspora with new money transfer service