Maina Kanyora, Alice, Tony, Bosco in UK Lost Their Mother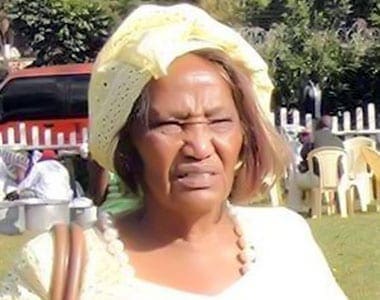 With God's grace we accept and announce the peaceful passing of Esther Muthoni Kamau, which occurred on 8th March, 2014. Beloved wife of Labanson Kamau, loving and dedicated mother to Maina Kanyora (Reading),Tony Kamau (Tony wa Jane) Oxford, Lucy Kamau (Bedford) and Alice Kamau (Luton). Doting grandmother to Quinton Arigi and Nelly Arigi (Luton) and Mwangi Maina (Reading). Supportive mother-in-law to Jane Mwangi and Alex Arigi. An inspirational Aunt to her nieces and nephews, and a well cherished friend to many.
Friends and relatives are meeting daily from Tuesday11-Friday 14 march 2014 from 7-10pm at St Barnabas church,14 elms road off shinfield Road,Reading, RG6 5TS for prayers and funeral arrangements .
Memorial service will be held at Christian Life Centre,49 Oxford Road,Oxford,OX4 2ER (old CLC) on 15 march 2014 starting at 1 pm. Those who walk uprightly enter into peace, they find rest as they lie in death.
REST IN ETERNITY, FOREVER IN OUR HEARTS.
For more information please contact – Reading- Maina Kanyora-07404978057, Alice Kanyora 97427413345, Oxford-Tony 07508037175 or Bosco-07919970188.
"Blessed are those who mourn, for they shall be comforted" (Matthew 5:4). The Lord will wrap His arms of love and comfort around those who trust in Him. 3. "He heals the brokenhearted and binds up their wounds" (Psalm 147:3).


Africa Welfare Association
is a pioneer provider of services to it's Diaspora members in the event of loss of a loved one. We are entrusted with the welfare of the African Diaspora globally.
We are entrusted with the welfare of the African Diaspora globally. AWA was set up in response to the ever-growing demand for services at a critical time. With trusted partners, AWA will offer you benefits wherever you are in the world.
Maina Kanyora, Alice, Tony, Bosco in UK Lost Their Mother