Nairobi Ranked 6 among Africa's 20 most active cities on Twitter

Nairobi is the 6th most active city on Twitter in Africa and the most active in East Africa, a new study shows.
The second How Africa Tweets study ranks Johannesburg as most active city in Africa, followed by Ekurhleni (South Africa) Cairo, Durban, and Alexandria.
Johannesburg leads with 344,215 geo-located tweets, followed by Ekurhuleni (264,172) and Cairo (227,509), Durban (163,019) and Alexandria (159,534) make up the remainder of the top five most active cities while Nairobi comes 6th with 123,078 geo-located tweets.
However Matt Gould, the digital specialist at Portland Communications, the firm that prepared the study says the tweets were collected over the last three months of 2013 only and that a longer duration may have yielded difference results.
Mr Gould also notes that various events across the continent such as the Westgate terror attack may have heard an impact on Nairobi's numbers had it happened in the last quarter of 2013.
"We are also surprised that cities with big populations like Lagos and other West Africa cities are not featuring despite their relatively good internet connectivity," he told nation.co.ke in a telephone interview from London.
The study shows that 60 per cent of the audiences in Africa are in their twenties compared to developed countries where older people are more active.
Rwanda's President and Safaricom's Bob Collymore are some of the few senior Africans with a significant following on Twitter.
English, French and Arabic are the most common languages on Twitter in Africa, accounting for 75.5 per cent of the total tweets analysed. Zulu, Swahili, Afrikaans, Xhosa and Portuguese are the next most commonly tweeted languages in Africa.
The day of Nelson Mandela's death – 5 December – saw the highest volume of geo-located tweets in Africa.
Football is the most-discussed topic on Twitter in Africa. Football was discussed more than any other topic, including the death of Nelson Mandela. The most mentioned football team was Johannesburg's Orlando Pirates (#BlackisBack, #PrayForOrlandPirates, #OperationFillOrlandoStadium).
"Our latest research reveals a significantly more sophisticated landscape than we saw just two years ago. This is opening up new opportunities and challenges for companies, campaigning organisations and governments across Africa." said Allan Kamau, Head of Portland Communications Nairobi.
Tuesdays and Fridays are the most active tweeting days according to the study. Twitter activity rises steadily through the afternoon and evening, with peak volumes around 9pm.
Top twenty most active cities on twitter in Africa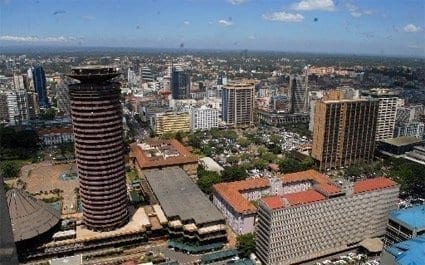 An aerial shot of Nairobi Central Business District on June 5, 2013. Nairobi is the 6th most active city on Twitter in Africa and the most active in East Africa, a new study shows. SALATON NJAU