Robert Alai:Why Mwaura was Removed from List, Aladwa goons,ODM polls chaos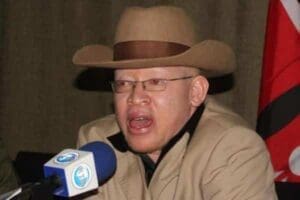 Outspoken blogger Robert Alai  has come to the defence of embattled nominated MP Isaac Mwaura after ODM elections degenerated into chaos yesterday.
In an incisive Facebook post on what transpired yesterday, Alai (who was present at Kasarani) said the goons who disrupted the delegates convention at Moi International Sports Centre, Kasarani, were hired by former Nairobi Mayor George Aladwa.
Here is the full post by Mr Alai:
Mwaura M Isaac was just a pawn. First what Mwaura was displaying was not a ballot paper but a campaign pamplet which he brought into the room. The campaign material was printed by a team which decided to campaign together.
Isaac Mwaura agreed to be part of the team but when it was time to contribute funds for the campaigns, he refused to campaign. He expected to be nominated to a post again like he was nominated. The team decided to exclude him from their activities because he refused to contribute to their campaigns.
Coast delegates had a very VALID concern which was that there be secret ballot and not acclamation. So the party should listen to them and Anyang' Nyong'o's passing approving the proposition that new leadership positions be created by NGC started to make people distrust the process.
The dissent was loud enough and I am with the group which believes that we must NEVER create new party positions to dilute the strength of the current offices and reward losers. People need to accept that they are defeated and look for other positions where they can serve the party.
Aladwa brought in the "Men in Black". They organised the group with a young man called Rashid Mohammed who is the ODM youth leader. First when Rashid arrived at the venue and found no seat at the main podium, I saw him insult all and sundry and even eject a woman old enough to be his mother from a seat. Rashid even insulted General Nkaiserry right in front of me.
It was wrong to see a young man tell an elderly leader like Gen Nkaiserry "kuma mayo" in front of even invited guests from Uganda and USA.
But Rashid and Aladwa brought the Men in Black for a purpose. I have the pics of the key people who destroyed the property but they were never there to keep peace.
I must say that I really appreciate the role the Kenya Police played in keeping peace. It was a mature and strict assignment where they were impartial and they respectfully asked people to disperse without throwing teargas aimlessly. They even helped the disabled and mothers to climb down stairs and gave them safe exits.-kenya-today.com