List of most and least expensive states to live in the U.S.
For the first time, the Commerce Department's Bureau of Economic Analysis released price-adjusted estimates of personal income for states and metropolitan areas for 2008 to 2012, and it shows that, at the very least, it's more expensive for Members of Congress to live in the nation's capital on their $174,000 salary than in any state from which they hail.
The results show the District of Columbia, in 2012, had the highest "regional price parity" of any state. Granted, D.C.'s really a city, not a state, and set against their more natural comparisons, it ranks fifth, behind the Urban Honolulu area, New York-Newark-Jersey City, San Jose-Sunnyvale-Santa Clara, Bridgeport-Stamford-Norwalk and San Francisco-Oakland-Hayward. Beaches, hedge funds and technology are the key to prices, evidently.
The cheapest metro areas, by this methodology, were Danville, Ill.; Jefferson City, Mo.; Jackson, Tenn.; Jonesboro, Ark.; and Rome, Ga.
See related look at most and least expensive cities to live in the U.S.
Put another way,it costs 54% more to live in Honolulu than in Danville.
The top five states (outside of D.C.) were Hawaii, New York, New Jersey, California and Maryland, and the bottom five states were Mississippi, Arkansas, Alabama, Missouri and South Dakota. So, it costs 36% more to live in Hawaii than in Mississippi.
The BEA says it produced the report in large part so people and businesses can have a better understanding how their personal income may be impacted by a job change or move. There is regional consumer price index data, but those statistics aren't designed for regional or city comparisons, whereas this data is, a spokesman says.
– Steve Goldstein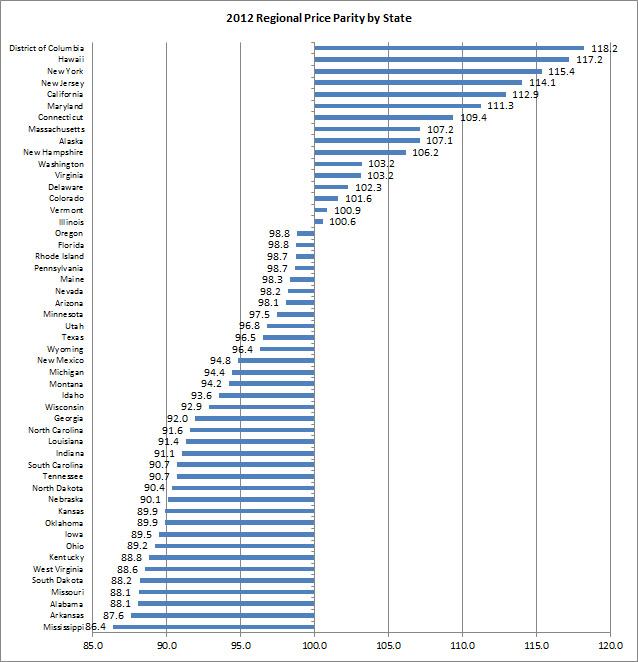 -marketwatch.com