Well done, Uhuru tells President Kiir and Machar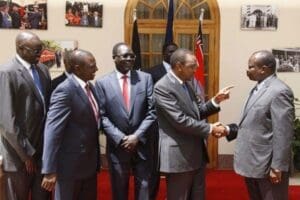 President Uhuru Kenyatta has congratulated his South Sudan counterpart Salva Kiir and rebel leader Riek Machar for holding face-to-face talks and signing a peace agreement Friday.
"We are very pleased by the progress so far and look forward to a complete cessation of hostilities and an IGAD summit in the near future," he said in a statement.
President Uhuru said he had recently expressed the region's disappointment at what the leaders of South Sudan were allowing their country to torn by conflict.
He said as a region, they were not going to stand by and watch as the people of South Sudan turn against each other.
"Today's (Friday) events show that the region is committed to facilitating the return of peace and stability in an important neighbour and friend," he said.
The meeting in Addis Ababa and its outcome are a further step forward in a process that began on the 19th of December 2013, he added.
He also cited the release of all 11 political detainees as having paved the way for the breakthrough witnessed on Friday in Addis Ababa.
"We expect the signing of today's agreement to lead to a quick implementation of the Cessation of Hostilities agreement that was signed in January this year. We look forward to the next summit which we hope will further solidify today's gains," he said as he challenged the two South Sudan leaders to commit themselves to the agreement.
We also welcome the agreement by the Parties to fully cooperate with the African Union Commission of Inquiry and pledge to abide by its recommendations because it is important that those responsible for committing any atrocities – regardless of the political divide – take full responsibility and are held accountable for their actions.
-nation.co.ke