5 Mpeketoni Attackers Killed, Guns Recovered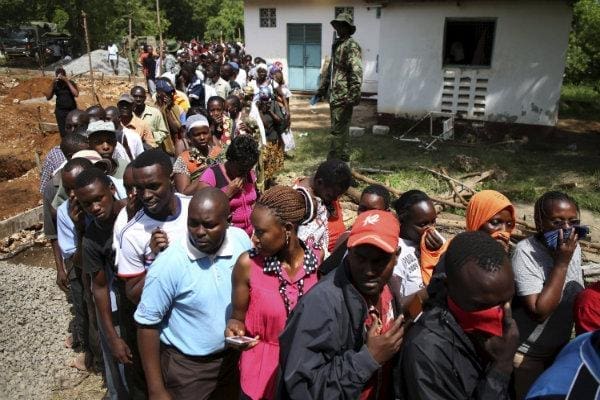 NAIROBI, Kenya, Jun 19 – Five suspects have been shot dead in Mpeketoni following the weekend killings of over 60 people, the government announced Thursday, but did not offer more details.
The Interior Ministry said on Tweeter that arms believed to have been used in the attack were also recovered from the slain men, who had engaged police officers in a shootout.
"5 suspected attackers shot dead while escaping 3 AK 47 guns and several ammunitions recovered in Bochai area, Mpeketoni Lamu County," the ministry tweeted.
Earlier, Inspector General of Police David Kimaiyo had announced the prosecution of three suspects over the attacks blamed on political incitement.
"We have arrested several suspects and already charged three in court," Kimaiyo said," one of them was charged this (Thursday) morning."
The police chief said all efforts are being done "to ensure all the suspects in this tragedy are brought to book."
He said police were still interrogating suspects arrested over the killings, including the one had taken them to the site where bodies of two brothers whose vans were hijacked by the attackers were dumped.
According to police, the brothers were found at an area known as Pangani, about 15 kilometres from Mpeketoni town, en-route to Witu.
The brothers were driving two of three vans that were hijacked by the gunmen who raided the town, according to a senior police officer briefed by detectives involved in the investigation.
Among those in custody is the owner and driver of the third van.
By Thursday afternoon, seventeen bodies remained at a make-shift morgue that was put up in Mpeketoni town, with others having been buried.
Funeral expenses for all the victims are paid by the government, following a directive by President Uhuru Kenyatta.
Meanwhile, the Government has sent 105 National Youth Service (NYS) personnel to help in the reconstruction of physical and economic infrastructure that was destroyed during the attack.
Devolution Cabinet Secretary Ann Waiguru says the government is working closely with the Kenya Red Cross to offer humanitarian assistance to the affected families.
Several businesses and houses were destroyed during the attack that targeted men only.
Kenya Red Cross Secretary General Abbas Gullet who addressed a joint press conference with the Devolution Secretary has urged Kenyans to stand in solidarity with the people of Mpeketoni who lost their loved ones.
5 Mpeketoni Attackers Killed, Guns Recovered