CORD divisions laid bare after Raila announces he is in 2017 race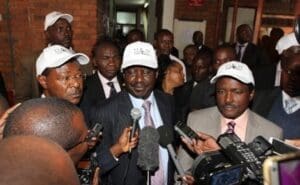 NAIROBI, KENYA: The Coalition for Reforms and Democracy (CORD) is headed for more storms after two co-principals declared they are firmly in the race for the presidency, a week after former PM Raila Odinga, made remarks widely interpreted to suggest he would be the sole flag bearer for the coalition in 2017.
Raila announced last Saturday, that he was the people's choice to battle it out with President Kenyatta, who has already announced he will be seeking a second term in 2017. The statement was construed to imply Kalonzo and Wetang'ula had given Raila the all clear to be CORD's flag-bearer, sparking sharp reactions.
Former Vice-President Kalonzo Musyoka and Ford Kenya Leader Moses Wetang'ula cautioned the Orange Democratic Movement (ODM) leadership against rash utterances with the potential to wreck one of the most formidable political forces in the country at present.
"Nobody can and has surrendered the ticket to Raila. We have not discussed the issue. I am firmly in the race and so is Kalonzo. When time comes, we shall go through the nomination and whoever gets the mantle will be supported by the losing aspirants," Wetang'ula, the Bungoma Senator and Ford Kenya party leader, told The Standard on Saturday.
Kalonzo, however, downplayed the issue. In a text message that suggested he is disenchanted with internal intrigues, the former vice-president quipped, "When did he (Raila) say and where?"
OTHER TRIBES
Kalonzo and Wetang'ula spoke to The Standard on Saturday just hours after they returned from a retreat in Ngoro Ngoro, Arusha, Tanzania.
The former PM's statement drew immediate criticism from within ODM, which is yet to recover from February 28, bungled party elections at Kasarani Stadium. The criticism was stoked further when ODM MPs from Nyanza vilified Budalang'i MP Ababu Namwamba a "mole" of the Jubilee government. The row has already created misgivings in CORD with MPs from Western region demanding for "respect" from their counterparts in Nyanza.
The defiance persisted even after Raila met Namwamba on Wednesday. The latter met Wetang'ula the following day to discuss their status in the coalition. Wetang'ula would not confirm or deny whether they discussed Raila's conduct. However, after the meeting, Namwamba tweeted a photo of him with the senator captioned: "With my big brother Senator Moses Weta this (Thursday) morning… keeping our eyes firmly on the goal, for country and community."
Ironically, on the day Raila declared he would run against Kenyatta, Wetang'ula was in neighbouring Busia County where, speaking in Luhyia, he told mourners the community would no longer play second fiddle to other tribes.
The same sentiments were expressed on Wednesday by former Westlands MP Fred Gumo  who accused Raila of "selfishness" and "dictatorship" in pursuit of power. As cracks began to appear in ODM and by extension CORD, Webuye East MP Alfred Sambu too, weighed in, drawing parallels between what is happening in ODM at present and the party's presidential nomination in 2007.
"Musalia Mudavadi and William Ruto were duped into sticking with Raila. It is a behaviour we have analysed closely and it is no surprise MPs from Western have been distancing themselves from parties where they are not accorded respect," says Sambu.
Rarieda MP, Nicholas Gumbo, a close ally of CORD leader, says he is not aware if the three principals have met and settled on Raila as their candidate. ODM MPs steered clear of the subject, with Gem MP Jakoyo Midiwo, and the former PM's elder brother Oburu Odinga declining to respond to inquiries about when CORD picked Raila as its flag-bearer.
Gumbo says Raila's remarks were merely an expression of interest. "The fact that you are poor does not mean when you pass near a butchery you do not have a craving for meat. He is restating his interest in the presidency," he explains.
MILLION SIGNATURES
Curiously, Kalonzo has also kept a low profile. His ally Kitui West MP and CORD deputy minority leader in the national Assembly Francis Nyenze, has, for the past four days, declined to comment on the subject as he said he was in meetings. Machakos Senator Johnston Muthama, would not respond as his personal assistant said he was involved in a series of meetings. However, Kakamega Senator Boni Khalwale, says the Luhyia unity should not be used to rubbish former PM
"Any decision of who will be CORD presidential candidate will be negotiated. It might be boardroom decision, delegates' conference or direct vote by party members. We have not reached that stage," says Dr Khalawale, who, because of his association with CORD faces threat of being recalled by UDF, the party that sponsored him in the last elections.
The development coincides with a new plot Jubilee has hatched to chip away at Raila's political clout. Gatundu South MP Moses Kuria and Majority Leader Adan Duale, say Jubilee was working on an amendment to election laws to cap the age of the presidential candidates at 65 years.
"If CORD pushes the referendum agenda, age is a card we will play. But we can trade off," says Kuria.
Such a law would have serious implications as it has the potential to lock out the CORD leader from the 2017 elections. Five years later, leaders with presidential aspirations such as Wetangula, Kalonzo and Narc Kenya leader Martha Karua, would be barred from the 2022 elections, making the contest a straight fight between United Republican Party's William Ruto, Kenya Social Congress' Peter Kenneth – and maybe UDF's Musalia Mudavadi, should he run.
"Imposing age is a misguided approach. They should let the electorate choose the president. Uhuru's father Jomo Kenyatta became president at the age 75 years, while Mwai Kibaki was 72 years when he became president in 2002. A president should be a seasoned leader. The problems Uhuru is going through are a reflection of his own age and inexperience," say Prof Amukowa Anangwe, who teaches at Dodoma University, Tanzania.
He points out that using age to bar Raila from vying for presidency presupposes that Ruto will stick with Uhuru till 2022.
"Jubilee is using the age factor to keep the Opposition's focus away from referendum. They want to kill it (referendum) by hook or crook because it suspected CORD wants to use it to prove that Uhuru did not win last elections," he observes.
The timing of Raila's announcement does not augur well for CORD, which today starts collecting a million signatures to press for a referendum to change the Constitution.
-standardmedia.co.ke