High Court nullifies police recruitment exercise, orders repeat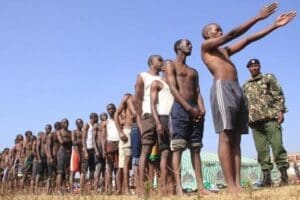 The High Court Friday morning nullified the controversial police recruitment exercise conducted in July this year over numerous irregularities.
Justice Isaac Lenaola directed that the process be conducted afresh after determining that sub-county committees across the 36 recruitment centers nationwide contravened the constitution and the National Police Service Commission Act.
Lenaola also said that the NPSC lacked the authority to mandate the sub-county recruitment committees to conduct the process making it null and void.
He said the results from some of the centers were inconsistent with the requirements of the recruiting institutions further making the process questionable.
The Independent Policing Oversight Authority had filed the case asking the court to invalidate the entire process following numerous complaints about the selection of recruits.
Other parties, such as recruits who felt that the exercise was altered to only qualify pre-determined candidates, applied to be enjoined in the case.
Others, whose admissions into the regular and administration police forces were revoked, joined the case seeking to have their status as recruits acknowledged. Some more of the recruits also joined the case to have the commission compelled to issue them with admission letters saying they had earned their right to be in the disciplined forces.
The High Court had earlier halted the issuance of admission letters to the 6,000 regular police officers and the 4,000 administration police until the credibility of the process was established.
– the-star.co.ke