Most wanted terror suspect arrested in Mwingi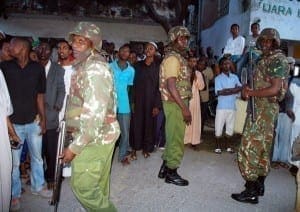 Police in Mwingi town on Wednesday arrested a most wanted terror suspect as he tried to sneak his way into the Capital Nairobi from the war ton Somalia.
The suspect identified Mohammed Abdi Wahab, who is believed to be key leader of the Al-Shabaab terror group was intercepted at a road block in Mwingi aboard a private Toyota Land cruiser car.
A team of officers from both the National Intelligence Service and Anti-Terror Police Unit in Garissa are said to have been monitoring the movements of the suspect for a while but he slipped by hiking a lift in the high end car.
According to the head of police in Mwingi Mr Gerald Barasa, his team was given particulars of the car and the terror suspect's description by their Garissa counterparts and asked to detain him.
"We acted on instructions from our colleagues from Garissa and flag down the car ferrying the terror suspect whose description we had been furnished with" Mr Barasa told the Nation last evening.
The OCPD said the suspect was detained at Mwingi police custody until Monday morning when he was taken back to Garissa for questioning by the Anti-terror police.
The Nation could not establish the history of the suspect and his alleged position in Al-Shabaab ranks but Intelligence sources said he was a major deterrence as the suspect was on a mission to cause mayhem in the country.
Last weekend, the military gunned down five suspected terrorists as they tried to cross into Kenya with 100 kg explosives loaded on pick up.
-nation.co.ke