Nyanza leaders split on Uhuru Kisumu tour from Wednesday
Nyanza leaders split on Uhuru Kisumu tour from Wednesday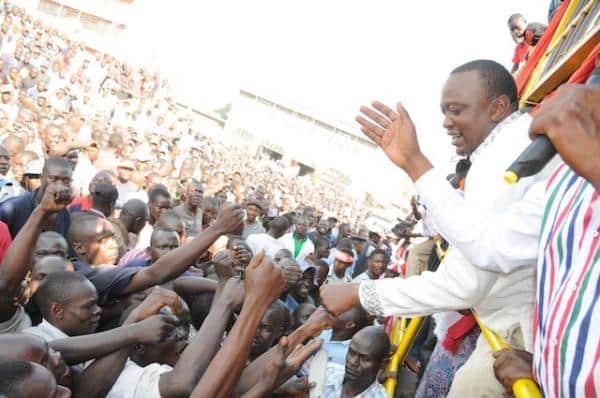 Deputy President William Ruto Sunday declared Cord leader Raila Odinga his friend as he and President Uhuru Kenyatta prepare to tour the former Prime Minister's political turf of Kisumu from Wednesday.
The three-day visit has split leaders from the region with some welcoming it and others saying they were uncomfortable.
Kisumu governor Jack Ranguma has promised to make the President's visit a success. He said he will lead a team of MPs from the county to State House today for a preparatory meeting ahead of the planned tour.
He also dismissed intolerant leaders and asked the people of Kisumu to welcome Mr Kenyatta to the region. However, Nyando MP Fred Outa said no development was likely to come from the President's visit.
Mr Odinga is on a trip to Mozambique where he will be monitoring the country's election slated for Wednesday.
Mr Ruto, who toured Migori County where unruly youths disrupted a presidential function last month, said he was on talking terms with Mr Odinga despite their political differences.
"In fact, I would have brought Mr Odinga's donation to this fund-raiser had he been in the country. It is unfortunate he flew out of the country to attend to other matters before I discussed with him this fund-raiser," the said at a harambee in aid of Ombo Catholic Church in Migori Town.
In an apparent reference to the political exchanges between him and Mr Odinga, Mr Ruto told the meeting: "The election is behind us and we must work together to create a new cohesive Kenya".
Some ODM leaders have in the recent accused Mr Ruto of scuttling efforts to have national dialogue between the Opposition and the Government while others, including Mr Odinga, have questioned the source of the money he has been giving in harambees.
Mr Ruto Sunday said nobody will stop him and President Kenyatta from visiting any part of the country to launch development projects.
"We will go to all areas including Opposition zones to launch projects because Opposition members also pay tax and they are entitled to get service from the national Government," he said. Mr Ruto said he will soon tour the area with President Kenyatta.
HIS WIFE RACHEL
Reflecting on last month's disruption of President Kenyatta's rally in the town, Mr Ruto said his wife Rachel had been hesitant about his trip to Migori.
"I told her I was coming here but she looked hesitant to approve my visit. She instead told me to be very careful during this trip. Another friend sent me a message on 'WhatsApp' telling me to wear a helmet before I land in Migori but I told him that I had already arrived and there was nothing I could do," he said amid laughter.
He told the meeting that President Kenyatta had urged him to go, saying the matter was buried after leaders from the region travelled to State House, Nairobi, to apologise.
All MPs from Migori County with exception of Mr Mathias Robi (Kuria West, URP) skipped the function. Migori Senator Wilfred Machage delivered apologies from Suna East MP Junet Mohammed who was out of the country and the woman MP, Ms Dennitah Ghati who is unwell after she was involved in a road accident.
"The rest of the MPs I do not know why they are not here because Mr Odinga did not tell them to skip this function," Dr Machage said.
Security was tight at the venue with armed police officers forming a cordon around the church compound.
All those attending the fundraiser were screened and some were locked out altogether.
Migori Governor Okoth Obado did not attend because he had travelled to India but was represented by his deputy, Mr Mahanga Mwita.
In what appears to be the Jubilee leaders' focus on Nyanza, President Kenyatta is expected in Kisumu for three days. During the visit, Mr Kenyatta is expected to inspect a number of development projects undertaken by the national Government.
Kisumu Central MP Ken Obura listed priorities for the region as water, roads as well as Public-Private Partnerships that will lead to the revival of collapsed industries.
-nation.co.ke
Nyanza leaders split on Uhuru Kisumu tour from Wednesday