Only death will remove me from office, says Francis Atwoli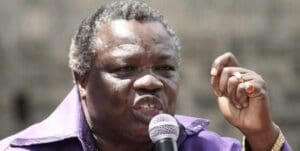 As internal wrangles within the Central Organisation for Trade Unions (Cotu) escalate, Secretary General Francis Atwoli has declared that only death will remove him from the position.
Atwoli accused his perceived enemies of plotting to hound him out of office for alleged embezzlement of Sh7 million.
"I am a firm leader and only death will remove me from the position I am holding in Cotu," said Mr Atwoli, adding that this was not going to happen any time soon.
Cotu Deputy Secretary General George Muchai was suspended earlier this month for allegedly breaching the union's constitution by serving partisan political interests.
The Registrar of Trade Unions however rejected Mr Muchai's removal.
Muchai claimed there were financial irregularities under Atwoli's watch and also accused him of rewarding sycophants with key positions.
He alleged that his Atwoli had falsified records relating to the sale of land in Mombasa.  In a letter dated April, Labour Cabinet Secretary Kazungu Kambi questioned the sale of the land and payment of Sh4.2 million to Toyota Kenya for the purchase of a vehicle for Tom Mboya Labour College in Kisumu.
Speaking in Kisumu last weekend at the burial of former trade unionist Johnstone Ogendo, Atwoli dismissed his critics terming the allegations as mere witch-hunt meant to taint his image.
"Throwing me out of office in this manner can't happen in a civilised society," said Atwoli, who claimed he is being implicated in corruption yet he is clean.
He said he can't embezzle Sh7 million to buy two cars yet the car he drove to the funeral in is Sh12 million, nearly double the amount he is accused of misappropriating.
Atwoli said his many followers believe in him. He said if his more than two million members donate Sh200 each, he would raise Sh400 million.
"I am not a thief and I'm loved. I was even given a Mercedes Benz that alternates colours and is worth Sh50 million therefore I can't embezzle a paltry Sh7 million," said Atwoli.
-standardmedia.co.ke