Style up, DP Ruto tells those against harambees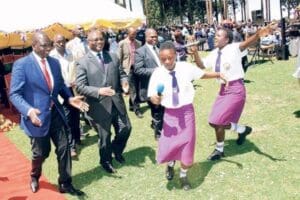 Political rallies or harambees  for development? Deputy President William Ruto has told those criticising the fundraising functions he has been conducting throughout the country to "style up".
Speaking in Kisii County on Friday, Mr Ruto said the leaders were still living in the past.
He said he and President Kenyatta would continue with their visits to initiate projects that are beneficial to the people.
This, he said, is what they set out to do when they ascended to power.
"We are now practicing a new form of politics —that of uniting all leaders irrespective of their political affiliations to work for the people.
"Or do you want us to go back to the old days of parading choirs to sing for us, hammer each other at meetings then go home?
"Do you want us to do political rallies or harambees?
"All we want is development for this country. That is the kind of politics we want and the others (critics) should style up. They should know that politics in the country has changed," he said.
He said those criticising his and President Kenyatta's visits to various parts of the country were doing so because they were used to the old style of politics.
"We are prepared for the transformation of this country," Mr Ruto said.
The deputy president was speaking at Gionseri Secondary School in Bobasi constituency during a fundraiser.
The area is represented in Parliament by Mr Stephen Manoti.
Mr Ruto was accompanied by Kisii County Governor James Ongwae, his deputy, Joash Maangi, senators Chris Obure and Janet Ongera as well as MPs Elijah Moindi (Nyaribari Masaba), Joseph Lomwa (Isiolo North), Kisoi Munyao (Mbooni) and David Gikaria (Nakuru East).
Also present was Mr Charles Nyachae, the chairman of the Commission for the Implementation of the Constitution.
Mr Ruto's sentiments appeared to be aimed at Cord leaders, led by former Prime Minister Raila Odinga, who have criticised his harambee donations and questioned where he gets the money he contributes when his salary was "less than Sh2 million a month".
Mr Ruto, who later flew to Nandi County for another function, revealed that the government would increase money allocated for free primary education by 40 per cent from Sh10 billion to Sh14 billion.
Funds for free secondary education will also be increased to Sh28 billion from Sh20 billion.
"This is because we know the importance of empowering people through education," he said.
He urged teachers and citizens to ensure that the resources are used prudently.
He further revealed that starting in 2015, examination fees for national exams will be scrapped.
-nation.co.ke