Anyang' Nyong'o quashes attempted ODM takeover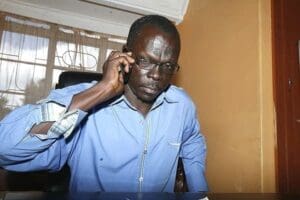 ODM Secretary-General Anyang' Nyong'o on Wednesday suppressed an attempt by a section of party directors to oust Magerer Lang'at from the position of executive director.
Mr Nyong'o said Mr Lang'at remains the party's executive director despite the ongoing disciplinary action against him.
"Mr. Magerer Lang'at is the Executive Director of the ODM who is currently scheduled to appear before the party's disciplinary committee as constituted by the NEC yesterday (Tuesday). Any public announcement by any unauthorized person to the contrary will attract appropriate disciplinary action," Mr Nyong'o said in a statement.
Party activist Wafula Buke had earlier held a press conference at the party's headquarters and claimed he had been asked by party bosses to replace Mr Langat in an acting capacity.
But Mr Nyong'o said the party would mete disciplinary action against Mr Buke.
"Mr. Wafula Buke's public announcement today has no bearing on decisions made by the party and he will be dealt with accordingly," said Mr Nyong'o.
-nation.co.ke