Kenyan Family Brings A Taste Of Kenya To Bowie, Maryland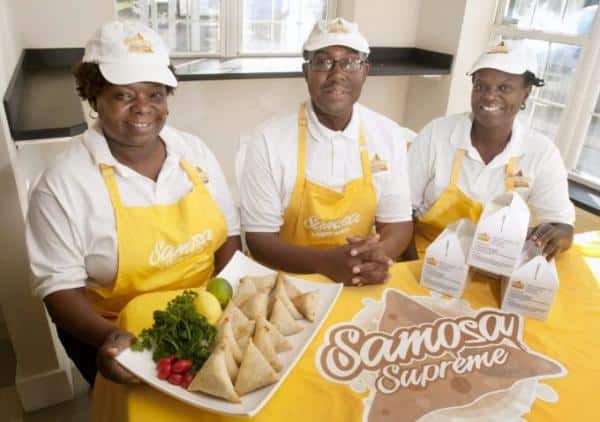 When Jane Musonye and Rose Musonye-Smith were growing up in Kenya, the flaky shell and warm, spicy filling of homemade samosas represented family, hospitality and generosity. Now the sisters are sharing that feeling with the world.
Musonye-Smith and her family have been making and selling samosas — a triangular pastry usually filled with spiced meat or vegetables — for around four years and are planning to open their first storefront location in Bowie this winter, said Dale Smith, Musonye-Smith's husband. Samosa Supreme will be located at 14207 Old Annapolis Road, he said.
Smith said his family hopes to mainstream the dish by exclusively selling samosas and offering a wide varieties of fillings, including breakfast fillings and sweet blends, Smith said. While samosas originated in Asia, they became popular in many other parts of the world, like Kenya, which has a lot of Indian influence in its cuisine, Smith said.
"[The samosa] has traveled to different parts of the world, and as it goes to different places, it takes on the flavor of that area," he said. "We're taking the concept of the samosa, but we've created new fillers."
Musonye-Smith, a Bowie resident, and her sister, Jane
Musonye of Norristown, Pa., were the children of Kenyan diplomats who traveled around the world with their parents before settling in the United States around 30 years ago, Musonye said.
Musonye-Smith said cooking traditional Kenyan food was important for her after she married an American and began raising two sons in the United States.
"It's spicy, wholesome," she said. "And it's healthier, just healthier. We use whole foods. When we make bread, I make it from scratch."
Her oldest son, Frederick Smith, 22, said he misses his mother's cooking while at graduate school in New York City. Smith said he and his brother, Douglas Smith, 20, have helped his parents with marketing and selling their products, and intend to stay involved with the family business.
"I'm just very excited," he said. "They've been wanting to do this for a very long time. Just moving from the festivals to having their own storefront just shows the amount of hard work they put in."
His aunt, Jane Musonye, has a background in catering and said she travels to Bowie several times per month to help her sister and brother-in-law make and sell samosas.
"I never thought it could be something viable to [make samosas exclusively]," she said. "We grew up eating beef samosas, and it never really occurred to me that you could have [different fillings]. But we said, 'Wait a minute. Americans love variety and they love choice.'"
Musonye said she plans to open a Samosa Supreme in Pennsylvania as part of the family's dream to turn Samosa Supreme into a franchise-https://www.samosasupreme.com/about-us
While the storefront locations promise to add another level of stress and complexity, Frederick Smith said he thinks his family's work ethic and close ties will make Samosa Supreme a success.
"My mother is an immigrant along with my aunt. They've been though so much stuff together. They kind of have an unbreakable bond," he said. "Just like anybody, we have different ideas about things, but that cohesive [feeling] of being in a family environment, you can't duplicate it."
-gazette.net
Kenyan sisters in US appeal to KACC to stop being disinherited
Kenyan Family Brings A Taste Of Kenya To Bowie, Maryland