NAKURU GOVERNOR'S AIDE IN NIGHT CLUB GUN DRAMA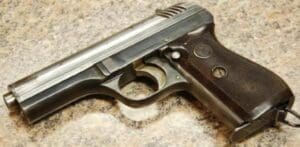 NAKURU COUNTY: Nakuru Governor Kinuthia Mbugua's Personal Assistant Stanley Mwaura was at the weekend involved in gun drama at a nightclub in Nakuru town.
Mr Mwaura who frequents the night club located along the Nakuru-Nairobi highway, thrust his cesska pistol into the face of a guard -Mr. Weston Ndung'u before he smashed him in the head six times over a parking space row.
Mr Ndung'u suffered serious wounds and received six stitches on the head.
According to Mr Ndung'u who has recorded a statement on the incident with police, the governor's aide who appeared intoxicated became furious when he was denied to park his vehicle at place where the car could have blocked the entrance of the club.
"I humbly asked him to remove his car from the entrance and look for another parking lot but he became furious and hurled insults at me before the attack," said the guard who works with Hunters Security firm.
Mr Ndung'u was on Monday in the process of obtaining a P3 form from Nakuru Central Police Station to press charges against the official.
The guard claimed that Mr.Mwaura kept on shouting at him: "do you know who I am?!" before he snapped and shoved the gun into Ndungu's face and assaulted him.
Other guards present came to the rescue of Ndung'u when it became apparent that Mwaura was bound to hurt his victim with the weapon.
Mwaura who is a son of former District Commissioner is a licensed gun holder and was appointed personal assistant to the governor early this year.
When contacted for comments, Mr Mwaura denied that he assaulted the guard and that in fact he was the one humiliated during the incident- that he dismissed as "minor and does not warrant media attention."
"That is not an incident that should attract media attention. There is no need of highlighting it in the papers," he pleaded with this journalist.
Mr Mwaura maintained that the guard mishandled him and he never used his firearm. But when told that Ndung'u had reported the incident to the police and that he received six stitches in the head, the governor's aide sounded surprised and promise to contact the victim.
"You mean he has gone to the police and reported the incident?" he asked.
It was not the first time the governor's aide is involved in a gun drama. A few months ago he shot twice in the air during a commotion with revellers at the same night club. The incident was hashed up after a senior government official intervened.