Raila Odinga in fresh drive to stop ODM fallout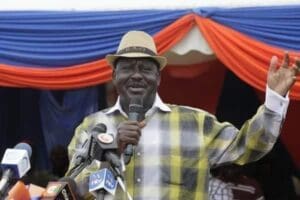 ODM leader Raila Odinga on Monday night reached out to his top allies who have rejected the recent sharing of national party positions.
Mr Odinga met Siaya Senator James Orengo and Suna East MP Junet Mohammed at Nairobi Club before holding talks with Busia County Woman Representative Florence Mutua.
He asked the three leaders to drop their opposition to the nomination of Budalang'i MP Ababu Namwamba as the party's secretary general.
Mr Namwamba was nominated to the post on Saturday during a party leaders' retreat in Naivasha.
The party also unveiled 26 national positions which were filled by 36 officials.
The new line-up is expected to be ratified by the party's governing council on December 5.
The ODM leader was expected to meet Funyula MP Paul Otuoma and Kakamega Governor Wycliffe Oparanya who have both announced that they will not take up their positions as proposed at the Naivasha retreat.
Mr Odinga is said to have been surprised by the reaction of some of his key allies who addressed a news conference in Nairobi during which they expressed their reservations about the sharing of the seats.
Mr Oparanya, Dr Otuoma and Ms Mutua had said in a press statement that they would not take up the posts they had been proposed for.
"It is our conviction that the manner in which the process was conducted does not reflect the will and the wishes of members of the ODM family," they had said on Monday.
Investigations by the Nation indicate that Mr Odinga's protesting allies were concerned about the powerful secretary general's position being given to Mr Namwamba, whom they consider a rebel.
"We have made it clear that we cannot accept an arrangement of this nature," Dr Otuoma said yesterday. "We have to conduct proper elections and allow our genuine party members to participate in electing the new leadership. That (other) formula is a sham and we have said No to it."
He urged Mr Odinga to invest in strategies that would make the party more vibrant instead of succumbing to what he described as "blackmail from one lost sheep".
He said he had not been approached by the party leader over his decision to turn down the position to which he was proposed.
"No one has talked to me. We have given them back the positions and they can distribute them to those who want them."
Dr Otuoma, who is from Busia, has been Mr Namwamba's opponent and views the elevation of the youthful legislator as a slap in the face.
Mr Orengo, who had stepped out of the race for a national post ahead of the aborted February 28 party elections, led a group of Mr Odinga's supporters at the Fairmont Norfolk Hotel in Nairobi on Monday to discuss the list before announcing they would not recognise it.
ODM insiders told the Nation that the Siaya senator had on Thursday last week advised against the new line-up and tried to plead with Mr Odinga to delay discussions on party elections until next year but failed.
Tuesday, Mr Mohammed said he met Mr Odinga over the dispute and that he had raised concerns over some of the individuals whose loyalty to the party he questioned.
"We are not rebels but we are curious something must have gone wrong because there is no way we can hand over our party to an individual or a group of individuals who are collaborating with our opponents just to appease them," he said.
Those in Dr Otuoma's group are pushing to have Mr Mohammed picked as secretary general and Dr Otuoma as chairman. Others have also proposed to Mr Odinga that Mr John Mbadi, who has been nominated as chairman, be nominated for secretary general and Mr Namwamba for chairman.
Tuesday, Mr Mbadi said that internal talks to harmonise the differences were ongoing and that the party leaders were reaching out to those who were unhappy with the proposed line-up.
"There are those who fear Namwamba especially our colleagues from Busia and Western," the Gwassi MP said.
"They think he may frustrate them during the nominations in future."
''But I think that will not happen because if we succeed in taking over office our mission would be to close shops that existed to sell party documents,'' Mr Mbadi said.
Ms Mutua who said she had met Mr Odinga over the matter said he she had rescinded her decision to decline her position but would support a formula that will not allow a takeover of the party by rebels.
"We need a formula that is acceptable that will not make us lose a loyal person like Otuoma. He is feeling short-changed. Mr Otuoma is a pillar in Busia County and should not be taken for granted. I have assured Mr Odinga that I will take up my position. He has promised to look into our concerns too," she said.
-nation.co.ke