A Diaspora Making a Difference in Nakuru-Renal Dialysis Services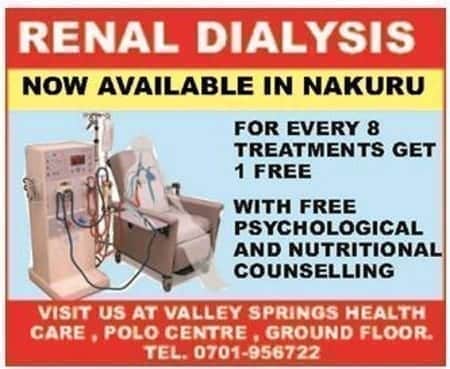 Dr. John Mwaura, a recent Diaspora returnee to Kenya is making a big difference in Nakuru County with much needed dialysis services under the umbrella of Valley Springs Healthcare.
According to the Kenya Renal Association, kidney diseases and ailments have become the most common non-communicable disease in the country after diabetes. Government epidemiological data suggests that 4 million Kenyans have chronic kidney disease of which a good proportion progresses unnoticed to kidney failure. This poses a threat to national development as it often results in long term complications that are costly to treat. People with kidney failure usually undergo dialysis – a procedure which cleans the blood. But the long term solution often lies in patients having kidney transplants which are costly for most Kenyans. Currently, there is a huge unmet need for renal care in Kenya.
For many years the residents of Nakuru and the surrounding counties have depended on Nairobi for their dialysis services. Nakuru has only one major dialysis unit at The General Hospital which cannot accommodate the needs of those affected by kidney failure. To address this national concern, it is with great joy that we announce to the Kenyans in the diaspora that we have opened a modern dialysis center in Nakuru, Kenya under the umbrella of the Valley Springs Healthcare. The center is an independently owned specialized health facility, providing compassionate and personal care, with dedicated and holistic approach. Our objective is to offer anthropocentric therapeutic services that cover various types of sessions such as hemodialysis, urology/endoscopy, day surgery, psychological, and nutritional counseling. Our first commitment is our patient's needs. Our advanced equipment and technology are usually only found at larger health centers and consists of six (6) Fresenius technology dialysis stations. The center is housed at Polo Center, on Tom Mboya Street off Kenyatta Ave. Nakuru.
The Valley Springs Dialysis center is staffed with a highly qualified, dedicated, interdisciplinary team of consultants including Nephrologist, Urologist, General Surgeon, and Psychotherapist. The nursing services are provided by dedicated and skilled Renal Nurses. The center caters to the individual needs of patients and their families. Our staff is committed to providing the highest standard of care to our patients, with a goal of successful clinical outcomes that lead to improved quality of life.
Our Mission and Vision
Our mission is to transform patients' lives through compassionate and best quality personalized health care. This commitment is reflected in our vision. Valley Springs Healthcare is recognized for excellence in dialysis services and continuous innovations with the highest level of satisfaction for all. To achieve this vision Valley Springs Healthcare is committed to
Provide personalized high quality care.
Exceed the expectations of our patients.
Foster a culture of excellence.
Be a visionary healthcare and corporate leader.
Attract and retain a diverse team of quality and qualified physicians and employees.
Provide excellent facilities and technologies.
Respect
Leadership
Loyalty
Quality
Integrity
Teamwork
Christ Centered
Our Statement of Values
We are now the largest private dialysis center in Nakuru, featuring 6 state of the art dialysis machines with modern water treatment plant to ensure clean bacteria free water for treatment. Our outpatient services include:
Dialysis
Psychological counseling
Urology/Endoscopy
Day Care Surgery theater
We at valley Springs encourage you to pass this information to your people in Kenya who may require dialysis services. Please ask your family and friends to come and visit us in Nakuru.
Contact Information
Valley Springs Healthcare
Polo Center
Tom Mboya Street off Kenyatta Ave
Ground Floor
Dr. John Mwaura, Executive Director- Tel. 0701956722
Ms. Ruth Kamau, Director of Operations- Tel 0718746275
-Diaspora Messenger
A Diaspora Making a Difference in Nakuru-Renal Dialysis Services