Kenyan Church in VA surprised by large check from Mystery giver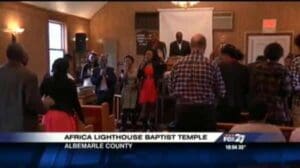 ALBEMARLE COUNTY, Va (WVIR) –A church in Albemarle County received one of the best Christmas presents from an unknown gift-giver. An anonymous donor wrote a big check that helped the congregation pay off the property.
Pastor Peter Chege of Africa Lighthouse Baptist Temple says it would have taken 10 years to raise the amount of money the church got in just one check.
Chege says he was shocked when a church spokeswoman opened that envelope.
"She opened it up, thinking it was just a regular Christmas card, and in the middle she found a check. And it was not just a check for $1,000 or $2,000. but a check for $52,000," he said.
Africa Lighthouse Baptist Temple spent Sunday's services celebrating that anonymous gift.
The church began fundraising efforts exactly one year ago Sunday to pay off the mortgage.
"One year ago we moved to this property with nothing but faith and $5,000 we had put down for the down payment for the property," said the pastor.
The church of African refugees needed $120,000 to afford its sanctuary. Now, it's all paid off.
"We now have our own piece of land. We pray in peace, and in our own language, and we are truly grateful," said Laura Kesavuka, church member.
Pastor Chege emigrated from Kenya nine years ago. He says the money will help the church continue its work helping African immigrants in central Virginia.
"We help them with their first cellphone, we help them even get cars, learn to drive, learn English lessons, apply for a job," said Chege. "Now we have a home, we have base from where we can operate and grow and launch more into the community."
Now that the church owns its building, Chege says the congregation has big plans. "The future is exciting. We want to have a homeless shelter, we want to have a lot of things that we want to do just for the community, he said.
The pastor says the donor doesn't want recognition for giving the $52,000, they just want the church to be able to better serve the community.
-nbc29.com