Occupy Parliament Protesters Freed,Thanks To Orengo And Maanzo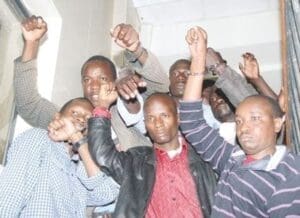 The Occupyparliament protestors were on Tuesday released on bond despite a pending application by their lawyer Mbugua Mureithi along with Cord lawyers James Orengo and Daniel Maanzo for cash bail.
On Tuesday morning the lawyers appeared before High Court Judge Jessie Lessit and made a revision application for the accused to be granted a cash bail.
The judge was to go through the court records then deliver a ruling on the matter but in the afternoon. The lower court released the eight after the surety bond was met.
Lawyer Mbugua told Nairobi News that he will consider withdrawing the application though he would consult and make a decision on Wednesday morning.
The eight who were arrested during last week's protests along Parliament Road as Parliament debated the Security Laws (Amendment) Bill will now be freed after a bond of Sh300, 000 each was deposited at Post Bank.
-nairobinews.co.ke