President Yoweri Museveni uses voter's card to travel back to Kampala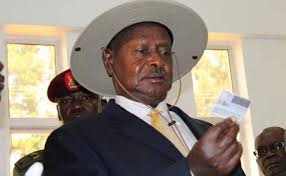 Nairobi, Kenya: President Yoweri Museveni of Uganda Friday used his Voter's Card instead of passport at Jomo Kenyatta International Airport (JKIA) as he travelled back to Kampala after official engagements in Nairobi. President Museveni was in the country for the 8th Northern Corridor Integration Projects Summit. He also attended Kenya's 51st Jamhuri Day celebrations at Nyayo stadium.
The new system where East African citizens use National IDs and Voter's Cards as travel documents became operational early this year across three countries in the region. Under the new arrangement, Kenyans and Rwandans are using national IDs while Ugandans use Voter's Cards as travel documents when entering or leaving any of the three countries.
At Thursday's summit, revenue authorities from Kenya, Uganda and Rwanda were instructed to ensure that bureaucracy does not deny clearing and forwarding agencies business at the port of Mombasa. The Summit also reviewed the implementation of infrastructure projects that will ease movement of goods and people within the Northern Corridor, and boost communication. The plane carrying Museveni and his entourage departed JKIA shortly after 6pm and was seen off by senior Kenya and Uganda government officials.
-standardmedia.co.ke