Appeal court declines to reinstate security clauses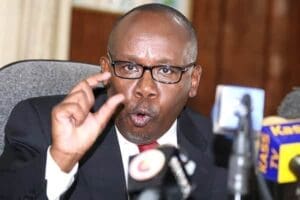 The Court of Appeal has declined to reinstate the eight clauses in the new security laws that had been suspended by the High Court.
Appellate judges Daniel Musinga, Patrick Kiage and Agnes Murgor ruled on Friday that Attorney-General Githu Muigai had not proved that the suspension of the clauses had created a vacuum in fighting terrorism.
Friday's ruling on the contentious clauses followed an appeal by the Attorney-General on January 12, asking the court to quash the orders given by Justice George Odunga in a case filed by Coalition for Reforms and Democracy (Cord) to stop the implementation of the security laws.
Cord, through its team of lawyers led by James Orengo, had gone to court saying the Security Laws (Amendment Act) 2014 were unconstitutional and were taking the country back to the dark days of repression.
The High Court judge faulted National Assembly Speaker Justin Muturi for presiding over a chaotic sitting of the House during which the Security Laws (Amendment) Bill was passed on December 18, 2014.
President Kenyatta signed it into law the following day, but Cord immediately said it would go to court to fight them.
Lawyer James Mwamu said some of the sections violate both the Constitution and international Conventions to which Kenya is a signatory.
But in his submission, Prof Muigai told the three-judge bench that High Court Judge George Odunga had no jurisdiction to suspend part of the security laws.
He said the matter should have been left to Chief Justice Willy Mutunga to appoint a bench to interrogate whether the new law was constitutional.
"The judge acted in excess of his powers by putting the cart before the horse. His role was only to inquire if the petition raised substantial questions of law and referred it to the CJ to constitute a bench to determine its legality," Prof Muigai said.
He said the judge did not act in the public interest since the balance of convenience would have made him to allow the implementation of the new law instead of suspending some parts of it.
The ruling means that the affected sections remain suspended and no agency or authority can use them until the matter is fully determined by a bench to be constituted by the Chief Justice.
The suspended laws are sections 12, 15, 26, 29, 48, 56, 58 and 64.
The case was filed by Cord, but the Law Society of Kenya and civil society organisations have been enjoined in the case.
Justice Mutunga has already appointed a five-judge bench, led by Justice Isaac Lenaola, to determine the constitutionality of the security law.
The other judges are justices Mumbi Ngugi, Hillary Chemitei, Hedwig Ong'udi and Joseph Onguto.
While making the appointment of the bench, the CJ was categorical that the dispute must be heard in January and a determination made on or before February 13.
-nation.co.ke