FRESH TWIST ON LUPITA'S SNUB ON ACTRESS KENYA MOORE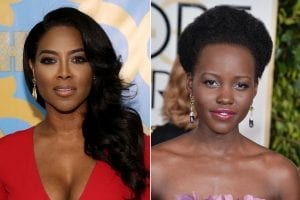 Lupita Nyong'o apparently has no clue who Real Housewives of Atlanta star Kenya Moore is.
Lupita has reportedly broken her silence on the Golden Globes awards after-party snub that saw the internet go abuzz.
American showbiz site Naughty Gossip on Tuesday reported that the Oscar award winning actress was asked at an event about the snub and responded by asking who Kenya Moore was.
"Lupita was walking a press line at an event recently, and was asked about the photo-snub by a reporter. The actress responded by saying, "Who is Kenya Moore?" She had ZERO clue!" read the article in part.
Lupita has never discussed the incident in any of her social media platforms despite the recent post by the reality show star dismissing claims that she was snubbed.
Last Friday, Kenya Moore tweeted, "Funny how a neg story gets legs. I NEVER asked 4 a photo my friend did & was denied. #Alisterproblems LOL still proud of her."
The photo-snub saga started after Kenya Moore was asked by a fan on twitter how the awards (Golden Globes) went. She responded that people were cool especially Taylor Swift, but that Lupita refused to take photos just after starring in two movies.
When asked later if she had dissed Lupita,  the reality show actress said all she was saying was that more than 1000 A-listers were being humble and that it was disappointing that Lupita wasn't.
Funny how Kenya Moore was quick to delete the previous tweets after stories of her being mad at Lupita for the snub made rounds on the internet.
Her latest tweet stating that she wasn't snubbed is still on her account.
-nairobinews.co.ke