Jubilee MPs demand immediate arrest of Ken Wafula over ICC witness death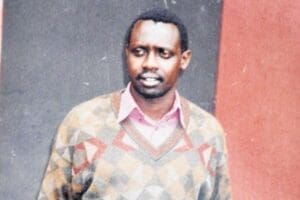 Human rights activist Ken Wafula should be arrested as the prime suspect in the murder of ICC witness Meshack Yebei, more than 20 Jubilee MPs have said.
Led by National Assembly Majority Leader Aden Duale, the MPs claimed Wafula played a key role in Yebei's abduction and death and asked CID Director Ndegwa Muhoro to investigate him.
"There is ample material in parliamentary proceedings showing that Wafula actively contemplated drastic action against the person of Yebei," Duale said in a statement on Wednesday.
He said the material indicates that Wafula and his associates considered Yebei "a very dangerous person" and recommended that "his fate be sealed completely".
Duale said Wafula cannot avoid answering several key questions about Yebei's death.
"As a matter of fact, we urge the director of criminal investigations department to move with prompt dispatch and conduct speedy and thorough investigations into this matter and the role of Wafula in it," he said.
Yebei, 34, was found murdered on Saturday, his body mutilated and dumped in River Yala.
– the-star.co.ke