Kenyans set to wait longer for police chief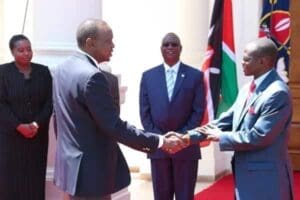 Mr Joseph Kipchirchir Boinett may have to wait until late February before taking command of the police.
There are indications that MPs might not be recalled early to scrutinise his nomination as Inspector-General of Police.
In spite of pressure from MPs, the House leadership says the National Assembly can only be recalled if there is a push from the Executive to have Mr Boinett vetted early. Parliament is on recess until February 10.
Last Saturday, Maara MP Kareke Mbiuki said parliamentary approval should not delay the appointment of the police chief, considering the country's state of security.
Speaking at Kairuni Market during the disbursement of Sh11 million Uwezo Fund money, Mr Mbiuki praised the President for picking a new police boss, given the challenges facing the country. He said Mr Boinett was the ideal man for the job.
National Assembly Speaker Justin Muturi, however, said parliamentary vetting was a long process and a "recall would not suffice".
He was supported by Majority Leader Aden Duale.
"Under the new provisions, the Speaker must read the message from the President to the full plenary," Mr Duale told the Nation mid last week.
After the message is read out, the relevant materials would then be handed to the Committee on Administration and National Security chaired by Tiaty MP Asman Kamama.
The committee would have 14 days to conduct vetting, which means the matter can only go to the floor of the House for consideration towards the end of February.
The law requires that vetting by Parliament be complete within 14 days of communication by the appointing authority.
Mr Duale said there hasn't been indication that the Executive would want a recall.
Should the Executive consider the matter urgent, it would ask him to see whether the House could be recalled to enable the process to begin.
"If that doesn't happen, then he can be either approved or rejected by the end of February," he said.
-nation.co.ke