Raila and Kidero face off in Homa Bay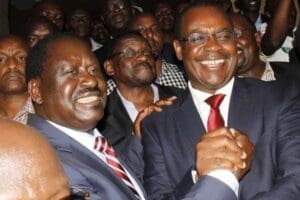 The Homa Bay senatorial race is turning out to be a bitter contest between Cord leader Raila Odinga and Nairobi Governor Evans Kidero for the control of Luo Nyanza voting bloc and the Orange party.
Both leaders have pulled all stops to ensure their candidates – Moses Kajwang (ODM) and Philip Okundi (Maendeleo Development Party) win the seat in the February 12 by-election which has also attracted Hillary Alila, Edwin Matete, Luke Misama and Innocent Masara, all Independents.
The others are Fred Rabong'o (National Agenda Party) and Bernard Owuor Otieno (National Vision Party). Dr Kidero, is seen as the de facto leader of a group of politicians in Nyanza who have "rebelled" against Mr Odinga, the regional political supremo, whose word has for long been unquestioned.
South Nyanza is also home to Rongo MP Dalmas Otieno who has openly come out to campaign against Mr Odinga's continued dominance of Luo politics.
Five Homa Bay MPs have also expressed disappointment over Mr Kajwang's direct nomination as ODM's flag bearer.
Dr Kidero this week issued a statement saying he is backing Mr Okundi "after consultations'' with the people of Homa Bay.
FAR REACHING IMPLICATIONS
Now political analysts say this head-to-head between the two politicians will have far reaching implications depending on how the race in Homa Bay ends.
A win for Mr Okundi, or any other candidate other than Mr Kajwang, could irreparably loosen Raila's grip on ODM and embolden his rivals in the party and even in the Cord alliance.
Wiper's Kalonzo Musyoka and Ford Kenya's Moses Wetang'ula have both indicated their intention to vie for the presidency in the next election.
"Okundi's win will be a shocker for the ODM leadership. It will confirm to the former Prime Minister that the people around him have been cheating him on the political reality on the ground," says Maseno University political science lecturer Tom Mboya.
Mr Mboya added that Kajwang's loss would be a big blow to Mr John Mbadi, the new ODM National chairman.
"On the flipside, Kajwang's victory will show that the former Prime Minister is still a force to reckon with and will send shivers down the spines of 'rebels.'''
Dr Kidero's political currency, he said, will dwindle should Okundi lose to Kajwang. "In fact it may mark the beginning of the end of his involvement in the party if it moves to discipline him. It will be a serious setback for his political career as he will not be able to work with the ODM party hierarchy in Nairobi."
The county is split almost in the middle over the by-election. Like Kidero, who hails from Homa Bay, MPs James Rege (Karachuonyo) and his Rangwe counterpart George Oner are supporting Mr Okundi.
ODM has threatened to discipline Dr Kidero. Mr Mbadi said:  "As much it is within his democratic right to support a candidate of his choice, Dr Kidero needs to be wary of breaching Section 14, (5) of the Political Parties Act."
"I ask him to reconsider his position failing which he should not blame anyone in future."
Kasipul MP Oyugi Magwang'a said the political Act ties Dr Kidero's hands on the matter "unless he wants to come out clean and declare he is the patron of this Kalausi."
But Mr Rege supported Dr Kidero and vowed to campaign for Mr OKundi to the end.
"What we are fighting for is a democratic space which is lacking in ODM."
Kalausi is an anti-Odinga movement linked to Rongo MP Dalmas Otieno.
However, Dr Kidero's allies led by Kasipul politician Charles Ong'ondo Were lauded his bold decision and have dared the ODM to make good its threats and 'discipline'' the governor.
Mr Odinga's and Dr Kidero's supremacy battle has rekindled memories of the bitter rivalry that pitted Jaramogi Oginga Odinga and Tom Joseph Mboya, the governor's father-in-law nearly 50 years ago.
Dr Kidero has in recent months presided over harambees in five out of the eight constituencies.
They are Suba, Rangwe, Karachuonyo, Kabondo Kasipul and Homa Bay Town constituencies.
Perhaps aware of the importance of this by-election, Mr Odinga has lined up series of campaign rallies in the constituencies represented by perceived rebels.
These include Karachuonyo of Mr Rege, Rangwe of Mr Oner and Ndhiwa of Mr Agostino Neto.
The former PM is also expected to address rallies in Suba, Kabondo Kasipul and Mbita.
Mr Kajwang and Mr Okundi, who are being seen as front runners are from Suba and Rangwe respectively.
nation.co.ke