Rebel Homa Bay ODM MPs risk expulsion, says party chairman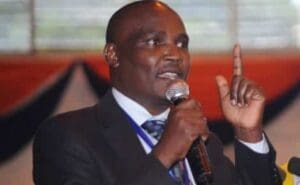 Homa Bay County MPs elected on an ODM ticket and not supporting the party's senatorial candidate risk expulsion, the party has warned.
ODM Chairman John Mbadi and Secretary for political Affairs Opiyo Wandayi said any party member who campaigns for rival candidates will have contravened the Political Parties Act and the party constitution and is therefore liable for disciplining.
The warning comes amid mixed reactions from the party leadership in the county over the manner in which ODM flag bearer in the coming by-election, Moses Kajwang', was nominated.
The party has experienced rebellion from a section of the members of the National Assembly with at least four legislators allied to ODM openly opposing the candidature of Mr Kajwang'.
MPs George Oner (Rangwe), Sylvance Osele (Kabondo Kasipul) Augustino Neto (Ndhiwa), James Rege (Karachuonyo) have opposed Kajwang', while their counterpart for Mbita Millie Odhiambo has taken a middle ground.
Mr Mbadi, who mentioned Mr Oner and Mr Rege as those spearheading the rebellion, said the party will ask its sub-county branches to deliberate on the conduct of the legislators and recommend possible disciplinary actions, which may include suspension or expulsion.
Mbadi, who noted that the party was in the best position of clinching the Homa Bay Senatorial seat, said the party's action against the 'rebel' MPs would be purely disciplinary.
"If the sub-branches recommend expulsion, we shall have the recommendation forwarded to the National Executive Council (NEC) for approval and inform the IEBC, which will initiate subsequent implementation of their removal from office," said Mbadi.
Mr Wandayi said the party will explore many options including removal from House committees, suspension from the party or expulsion in a worst-case scenario but stressed that each case has to be looked at on its own merit.
"We shall, however, reluctantly resort to such extreme measures if our verbal pleas are not heeded by those concerned," he said.
Wandayi, who is also the Ugunja MP, said discipline will not only be restricted to Homa Bay but also to all other party activities.
He added that by taking action against errant members, the party is not intolerant or interested in scuttling party democracy, but it is a move to ensure discipline is instilled in ODM.
"If there is no discipline in such a big party, then it will be difficult for it to achieve its goals, which include capturing State power," he said.
Mr Osele who is among the party members labeled as 'rebels', however, dismissed the claims reiterating his support and loyalty to the party.
Osele said the information spread by a section of the party leaders that he is against the party agenda are mere propaganda.
On Thursday, the ODM leadership was in Homa Bay campaigning for Kajwang'. Five of the eight MPs from the region were notably absent from the rally, which infuriated the party leadership.
-standardmedia.co.ke