WORRYING TREND WHERE KENYANS ARE BEING LED TO IDOL WORSHIP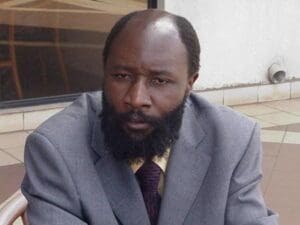 "prophet" Dr David Owuor the man forcing Kenyans to worship him as an idol.
Last week I warned that idolatry is taking deep roots in this country when some people went round Mt Kenya in an anti-clockwise ritual praying facing the mountain which I called idolatry and received an avalanche of condemnation from a cross section of Kenyans.

Since yesterday in Nakuru, we have witnessed real idolatry where desperate people literally worshipped a person whom they have idolized as their god to his pleasure where they are even calling him their lord.
Desperate people washed Nakuru roads for Owuor to walk through like Jesus' triumphant entry into Jerusalem.
When five people die in his crusade, he can't even react to show shock. Real evil.
When these forms of idolatry take place and no one is raising a finger against them, or they seem to be torelated, it is the country that will suffer calamities.

Get it from me; Owuor is neither a prophet nor a doctor or anything. He's just a con who has penetrated and infiltrated senior personalities in government just to access an illegal license to con Kenyans and cause havoc both spiritually and physically to Kenyans.

What has bewitched Kenya? Like the Galatians of old, who have bewitched us? From Kanyari, to Mt Kenya idolatry, then the idol called Owuor, then deaths from roads just because police are bribed to let Matatus and buses over speed without speed governors, to illicit brews killings youths in their hundreds. Who has bewitched us?

Where are the Apostolic and Pentecostal Ministers of the Gospel whom Jesus gave Power and Authority over these evils.
We must assemble as The Body of Christ to address this scaring phenomenon soonest possible.
When we were made the lights to illuminate this world, we were also made its rulers spiritually so to speak.
By Hon Bsp Dr Stephen Ndicho
AFRICA CENTER for PENTECOST