Raila wants renegade ODM MPs punished for opposing Kajwang'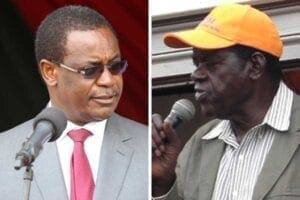 ODM leader Raila Odinga on Sunday directed his party to punish politicians who opposed its candidate in the Homa Bay senatorial by-election.
In a region where Mr Odinga commands huge support, the order could put the careers of the four MPs into jeopardy.
The lawmakers are Mr James Rege (Karachuonyo), Mr George Oner (Rangwe), Mr Agostino Neto Oyugi (Ndhiwa) and Mrs Millie Odhiambo (Ndhiwa).
While Mrs Odhiambo was neutral, the Rege group threw its weight behind Maendeleo Democratic Party candidate Philip Okundi, who was later defeated by ODM's Moses Kajwang' by a wide margin.
Nairobi Governor Evans Kidero had initially backed Mr Okundi but later withdrew his support.
Mr Odinga directed party Chairman John Mbadi to take disciplinary action against the rebel politicians.
He spoke during the burial of party official Monica Amolo in Homa Bay on Sunday.
There have been calls for the rebel MPs to be pardoned but speakers at yesterday's funeral demanded they be punished.
Mr Odinga's statement was in response to the mood of the huge gathering.
Ruaraka MP T J Kajwang' started it all after he told Mr Mbadi that there was no need to extend an olive branch to the rebels.
"There is no way we can talk of forgiving those who gave us a headache during the by-election by openly campaigning for our opponents," said the Ruaraka MP.
Nominated Senator Elizabeth Ongoro also put nominated members of county assemblies who never campaigned for Mr Kajwang' on notice.
"Most of them are earning fat salaries and driving big cars, courtesy of the party. If you know that you never participated in the ODM campaigns, then we will deal with you," she added.
On Friday, Mr Mbadi hinted that the rebels were welcome back to the party.
He, however, said the MPs must first show remorse by apologising for having gone against the party position and the Political Parties Act.
He was addressing mourners during the burial of Homa Bay County Chaplain Tom Mwombo.
The Ruaraka MP said most of the leaders who campaigned against the party were merely looking for easy cash, a sentiment that was echoed by Mr Mbadi.
"The ordinary ODM supporters have no problem and are steadfast in their support for the party. Those giving us a headache are MPs and MCAs, some of whom were nominated," he said.
Mrs Ongoro told Mr Odinga that the party had no apologies to make over the decision to eject the rebel MPs and MCAs.
"We would rather have a few loyal supporters in the party than many pretenders who are out to wreck it," she said.
Mrs Ongoro said party members who live in towns and only appear at the last minute when elections are around the corner to buy nomination certificates would be in for a rude shock. "We will make sure that those who have sacrificed for the party, especially rural women, get party nominations," said Senator Ongoro.
Homa Bay Town MP Peter Kaluma said there was no way the rebel MPs, who even recently voted with Jubilee MPs for the suspension of Homa Bay Woman Representative Gladys Wanga and Mr Mbadi from Parliament, can be allowed back.
"The people of Rangwe, Karachuonyo, Mbita and Ndhiwa need a by-election so as to weed out the rebel MPs," he added.
-nation.co.ke