Garissa dead terrorists paraded for locals to see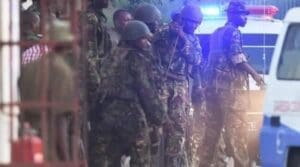 NAIROBI, Kenya Apr 4 – Kenyan police on Saturday paraded the four bloated and naked bodies of what they said were the gunmen in a university massacre of almost 150 people, saying the grim display was held to see if anyone could identify the assailants.
Hundreds, including children, took to the streets to see the corpses, which were piled on top of each other face down in the back of a pick up truck, that drove down the main street in the northeastern town of Garissa.
Some threw stones at the bodies as they passed, others jeered and shouted at the dead.
The pickup drove for almost half a kilometre (0.3 mile) from the hospital before stopping near a children's playground, chased by young men. Hundreds more came to join the crowd despite the foul stench from the charred bodies, now swollen two days after they were killed.
"The intention was not a parade, but rather for public identification so that if anyone can recognise them whether they are a relative or someone who knows them," local police chief Benjamin Ong'ombe said, adding the bodies were then returned to the hospital for storage.
"Too many people turned out, so we had to return them," he added.
As well as the four gunmen killed, five men have also been arrested in connection with the university massacre by Somalia's Al-Qaeda-linked Al Shabaab militants.
Thursday's attack on Garissa University, situated near the border with Somalia, claimed 148 lives, including 142 students, three police officers and three soldiers.
Many in the crowds took photographs with their phones of the bodies, but many said they were disgusted at the parade.
"Bringing the bodies of the deceased, whether terrorist or others, and then running them naked in the streets, will only incite terrorists to act with more hatred in another attack," said Abdi Hussein, a local elder. "It is against humanity to parade naked bodies."
The massacre was Kenya's deadliest attack since the 1998 bombing of the US embassy in Nairobi, and the bloodiest ever assault by the Al Shabaab militants.
"Driving around on the streets in broad daylight in a country which upholds human dignity is embarrassing," said Ahmed Yusuf, a student at another local college.
"Instead of driving bodies around the streets now, the security forces should had pro-actively gone out to stop them from killing students," he added.
Sh20 million bounty has been offered for alleged Al Shabaab commander Mohamed Mohamud, a former Kenyan teacher believed to now be in Somalia and said to be the mastermind behind the Garissa attack.
-capitalfm.co.ke