Good news for Kenyan kid suffering from encephalocele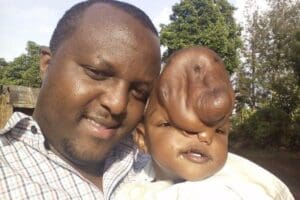 Fidelis Muthoni needed Surgery'urgently and a concerned Kenyan opened a gofund me account.
The Good news is that  A family in Canada has volunteered to sponsor the family and  the sick kid hospital will take care of  the surgery.
The family of the kid now only need airfare and upkeep money while in Canada and Hannah Waithaka and few concerned Kenyans have volunteered to help.
Here below is the original message posted in the Gofund me account.
————————————————————————————————————–
1 year old Fedelis Muthoni is suffering from encephalocele, which is a congenital gap in the skull that usually results in a protrusion of brain material. Fidelis is scheduled to undergo a forehead reconstructive surgery at sickkid hospital in Canada on May 7th and the hospital is sponsoring the operation but the family does not have enough funds to cover air travel from Kenya and also the family upkeep during the stay. We are appealing to well wishers to assist the little angel , so that she can have a normal life like any other kid. Thank you
http://www.gofundme.com/rartwk
-Diaspora Messenger