How Uhuru and Ruto have juggled work, ICC cases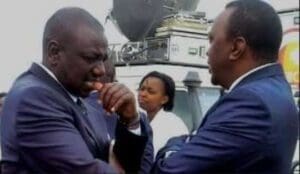 NAIROBI: The twin criminal cases against President Uhuru Kenyatta and his deputy William Ruto have clouded their administration since they were sworn in exactly two years ago.
But Uhuru's critics argue that his rise to the Presidency contributed to the collapse of his case late last year.
The ICC Chief Prosecutor Fatou Bensouda claims Uhuru's authority as Head of State prompted the Government to deny her access to crucial evidence including records of companies owned by the President, land records, those of his motor vehicles and mobile phone.
The election of Uhuru and Ruto meant that their ICC cases would be part of the national diary.
Soon after being sworn in on April 9, 2013, the debate about their appearance at the ICC became a national and continental debate.
African Heads of State held meetings and resolved that sitting Presidents should never appear before the ICC for trial.
See Also: Hoteliers upbeat despite shocks in sector
In Kenya, Parliament passed a motion to have Kenya withdraw from the Rome Statute, in what was seen as a belated move to save the President and his deputy from the attending trial.
Uhuru had been charged, as an indirect co-perpetrator, with five counts of crimes against humanity consisting of murder, deportation or forcible transfer, rape, persecution and other inhumane acts allegedly committed during the post-election violence in Kenya in 2007-2008.
Since he rose to power, his case took a downward trend. The commencement of the trial was adjourned more than five times in the past two years. The prosecution accused the Government of concealing evidence against the President, though they did not have evidence of Uhuru's direct involvement in the concealment.
Uhuru and Ruto's presidency put them at an advantage regarding the manner in which the cases were handled. The two were exempted by their Trial Chambers from attending all the sessions of the proceedings to enable them carry on with their duties as national leaders.
But the biggest challenge to his Presidency came last year when the Trial Chamber summoned him to personally appear before it. Uhuru decided to hand over power to Ruto and attend the proceedings in his private capacity to avoid becoming the first sitting president to appear at The Hague.
-standardmedia.co.ke