He left hideout to rescue his girlfriend and met his death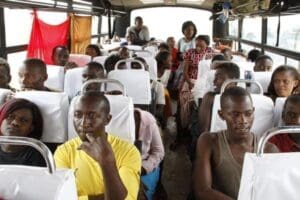 As gunmen shot their way into Garissa University College students on Thursday, a group of students, among them John Mwangi Maina, 20, fled and hid in thickets outside the campus.
But in the safety of his hideout, Mr Mwangi realised that he had left his girlfriend behind, and quickly resolved to go for her.
"He must have been shot dead as he went back to rescue the girlfriend," his uncle Samuel Irungu told the Nation on Sunday outside Chiromo Mortuary where the family had gathered to identify Mr Mwangi's body.
The family had known of the news of the attack and frantically tried to establish that their kin was safe, said Mr Irungu, a headteacher in Muranga County.
Mr Irungu travelled to Kenyatta National Hospital the following day to confirm if his nephew was among the casualties flown for medication to the facility.
Though Mr Mwangi's name was not among the catalogue available at the hospital, his uncle's spirits were calmed when an alleged Garissa University student called the family, reassuring that Mr Mwangi was safe for he was among the students who had gone to hide in the thickets.
But as the sun set on Friday, the uncle could not understand why the nephew did not call, and this increased his anxiety.
On Saturday, he joined the dozens of friends and relatives waiting for the terror attack survivors who were travelling to Nyayo Stadium in Nairobi.
Holding an enlarged mugshot of his nephew, Mr Irungu asked among the students who were flying into the embracing arms of their friends and enemies if the subject had accompanied them in their journey.
"With all the excitement around, it was not easy getting a response. But one lady whose name I can't remember, pulled me to the side and told me that she knew Mwangi," said Mr Irungu. `
According to the woman, Mr Mwangi was among the students who had hid in the bush but he went back to rescue his girlfriend, said the head teacher.
For Ayub Njau Kimotho, 21, his last text to his brother carried a message of no hope: "Hapa pahali tumefika, sasa tuwachie Mungu (At this point, we leave everything to God)." Thereafter, his phone went unanswered.
A second year Business Administration student, he was one of the students whose lives were brought to a brutal end in the attack.
"He is a prayerful man and had left his room with one of his roommates to go for morning prayers," says Mr Daniel Chege, Ayub's brother.
However, the blasting of gunshots drove Mr Njau and his friend out of the prayer room and into hiding where he immediately started sending his brother text messages informing him of what was happening.
"I asked him if he was safe and he affirmed but did not tell me where he was hiding. I tried calling him when he failed to reply my texts but his phone just kept ringing. It was at that point when I knew things were no longer right," said Mr Chege.