Munya and Joho decry harassment by EACC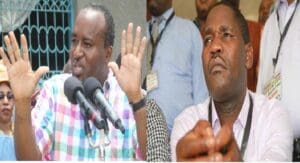 Two governors named in the EACC corruption dossier yesterday denied claims they intend flee underground to avoid arrest.
Governors Hassan Joho (Mombasa) and Peter Munya (Meru) accused the anti-corruption agency of plotting to humiliate them with kangaroo court-like arrests and proceedings. They said, however, they would cooperate with the Ethics and Anti-Corruption Commission.
The county chiefs asked EACC detectives to give them schedules for their questioning and advise them in advance when and where they are required to appear.
"No governor plans to leave the country or go into hiding over the prospect of questioning or arraignment in criminal courts," the two said in statement at a press conference at the COG offices in Nairobi.
Nine governors were mentioned in the so-called list of shame alleging corruption.
In their statement, the two condemned the heavy-handed manner in which Murang'a governor Mwangi Wa Iria was ponced upon in his office and bundled into a police vehicle on Wednesday. He was taken for questioning to Integrity Centre and released that evening.
Wa Iria's public arrest was intended to humiliate him, Joho and Munya said.
They said they do not claim immunity from prosecution where investigations establish criminal wrongdoing.
"The process of investigation, manner of arrest and arraignment in court must be in accordance with the constitution that gives all citizens the right to respect and human dignity."
They said the law does not provide for elected officials to step aside as that would be "tantamount to resignation which has constitutional consequences".
The county chiefs argued the EACC was taking political actions at the behest of political actors.
– the-star.co.ke