Ruto dismisses Raila's call for fresh polls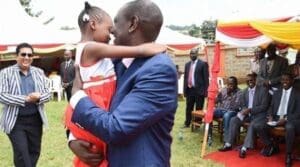 NAIROBI, Kenya, Apr 26 – Deputy President William Ruto has dismissed calls by CORD leader Raila Odinga for a fresh election as misguided.
Ruto described those who were criticizing the Government as people who could not see anything being done.
"It should be clear that election is not an end to itself but a means to an end," he said.
"We have people who do not see anything good happening in this country because they cannot see anything good being done," said Ruto.
He said some leaders because of their selfish agenda could not want to credit the Government.
"As leaders we should not confuse elections and the agenda for Kenya. Agenda for this country is greater than elections," said Ruto.
"Those who have no idea of what Kenya needs, where Kenya wants to go and the requirements of Kenyans are not sincere," he added.
The Deputy President told those who think leaders were elected during elections to think beyond their imaginations saying leadership was God given.
"Those who think that leaders are elected during elections should think beyond that. It is God who elects leaders through the people," he said.
"We can have as many elections as possible but if it is not God's wish, we are not going anywhere," added Ruto.
Speaking at the Kinoru Methodist Church in Meru County on Sunday, the Deputy President reminded the Opposition that the Jubilee administration was firmly in charge.
He wondered why the Opposition was giving a blind eye to the construction of the standard gauge railway, 10,000kms roads, supporting devolution, scrapping form four and standard eight examination fees and introduction of NHIF to benefit in and outpatients.
"I want to remind them that if they do not know that there is transformation happening in Kenya then they cannot change," said Ruto.
The Deputy President said Kenya couldn't be changed by mere rhetoric saying it was time leaders focused on service delivery.
"If the Opposition does not have an idea of where we want to take Kenya, then how can elections help them? Asked the Deputy President.
Education Cabinet Secretary Prof Jacob Kaimenyi, Governor Peter Munya, Senator Kiraitu Murungi and Women MP Florence Kajuju accompanied the Deputy President.
Others were MPs Mithika Linturi (Igembe South), David Were (Matungu), Mpuri Aburi (Tigania East), Joseph M' Eruaki (Igembe North), Rahim Dawood (Imenti North), Stephen Manoti (Borabu), Kigo Njenga (Gatundu North).
Kaimenyi dismissed claims that the ministry was taking up the roles of the Teachers Service Commission saying it was only ensuring accountability in learning institutions.
"The work of hiring, promoting and sacking is being handed by TSC. What we only need as ministry is to ensure school principals become accountable, nothing else," said Kaimenyi.
The leaders said they have resolved to put aside their political differences and direct their energies to serving the people.
"We have resolved to put aside our small differences and take a common development agenda for the sake of the development of our people," said Munya.
The Governor dismissed claims that the county governments were working in isolation with the national government on development.
"I want to make it clear that the county governments are working together with national government. The only difference comes when we as county governments ask for more resources from the national government. Only that,' said Munya.
Senator Kiraitu dismissed calls for a referendum being spearheaded by CORD leaders saying Kenya was not ready for another mini poll.
"This is a referendum that CORD leadership wants to test waters ahead of the 2017 elections. Kenya is firmly under the leadership of President Uhuru Kenyatta and his able Deputy William Ruto and we wonder why someone wants to save Kenya, from what? asked Kiraitu.
The Senator called for unity and teamwork among leaders in Meru County if the much needed development in the area.
-capitalfm.co.ke