Several people feared dead as floods hit Narok town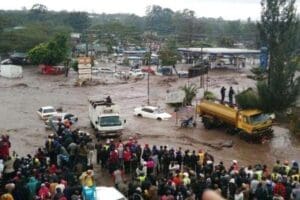 Several people are feared dead and property worth thousands of shillings destroyed after flash floods hit Narok town.
At least 10 vehicles were swept away and Narok-Bomet road cut off temporarily Tuesday afternoon after flood waters swept through the town.
Witnesses said they saw three bodies in Ngare Narok River.
One building in the town collapsed and it is not clear whether there are people trapped inside.
Residents were stranded and movement restricted as flood waters swept through the town from 5pm
Narok County Commissioner Arthur Osiya asked residents to remain calm and report any missing person to police
Kenya Red Cross had to mobilise a team from Nairobi to support the group in Narok following reports that several people could have been swept away by the floods.
The Narok County Executive in charge Lands, Housing and Urban Development Allan Twala warned motorists and residents to be on the lookout of fallen power lines and branches.
"The County government is advising people to keep calm and avoid movement in town, stay indoors as long as possible and not leave their home unless absolutely necessary," he said in a post of the county's official Facebook page.
Mr Twala said the county government had mobilised rescue teams as the flooding was expected to continue due to heavy rains in the area.
"Heavy rainfall is likely to increase river levels, leading to flooding of low-lying land and roads, as well as increasing the risk of groundwater flooding.
"The Narok County government emergency team which includes security enforcement agencies continues to work around the clock to minimize flood related risks by clearing debris from roads and streams, unblocking culverts, securing the town and controlling traffic," he said.
-nation.co.ke