Split over calls to withdraw KDF troops from Somalia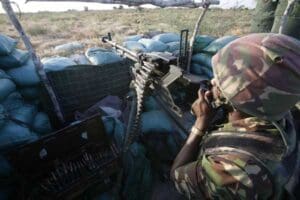 Experts are split over renewed calls for Kenya to withdraw its troops from Somalia following increased terror attacks, the latest being the Garissa University College massacre.
While one group thinks that the move will be a protective measure for Kenyans at home, others reckon that the withdrawal will embolden the Al-Shabaab.
Speaking to the Nation Saturday, University of Nairobi political scientist Adams Oloo said that the county was experiencing desperate moments which needed extraordinary measures to tackle.
He said the government needs to rethink and strategize on how to deal with the attacks by drawing an exit plan from Somalia.
"The number of killings in the country has escalated since the KDF was posted in Somalia three and half years ago.
"People pay taxes to the government to ensure they are safe and since this security has not been forthcoming there must be a change of strategy," said Dr Oloo
However, counterterrorism expert Richard Tutah said withdrawal of the Kenyan troops which are operating under Amisom will give Al-Shabaab the capacity to raise revenue and organise more attacks.
According to Mr Tutah, the militant group which killed 148 people in Garissa last week will be in a better position to export charcoal which is one of its main sources of revenue.
"We need to upgrade our homeland security systems so that we can be in a position to counter terror attacks," said Mr Tutah in an interview with the Nation.
"The issue is that there has been a lack of investment in homeland security and intelligence services," he said.
Mr Oloo also said there was lack of coordination and clear information by the Kenya police force which he says had hindered urgent reactive measures against the attacks.
Retired senior immigration officer Joshua Ogwang' said that the government should focus more on protecting Kenyan borders.
"Al-Shabaab have no fixed abode and only surface where and when they attack. We need a tight internal security system," said Mr Ogwang'
On calls for the closure of the Dadaab refugee camp, Prof Ken Onkware of Masinde Muliro University said the decision should be guided by international law.
"If the government close the camps, the message that will be sent out is that it has admitted that these terrorists are in the camps which probably is not the case and this will be a sign of failure," said Prof Onkware, who teaches disaster management.
Senior Cord politicians including Raila Odinga have called for the withdrawal of the troops from Somalia.
Cord leader Raila Odinga said the country should emulate the US which withdrew its forces from Somalia, Iraq, Afghanistan and other violent areas in order to safeguard the rights of her citizens.
-nation.co.ke