Two terror suspects shot dead, one officer injured in Kwale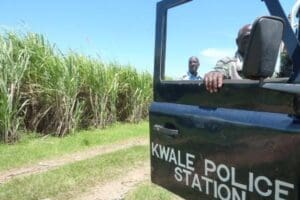 Two terror suspects were shot dead and one officer injured following a raid on a house in Diani, Kwale county by detectives from the Crime Prevention Unit on Saturday
The detectives had raided a home in Kwale following a tip off from the public. One of the officers was shot in the chest while trying to get access to the house. Area county commissioner Evans Achoki said that he is in a stable condition.
The two suspects Alfan Said Mwamtaka and Hamisi Shabaan Kulunda were gunned down after a shoot out with police.
A senior police officer in Kwale who refused to be named claimed that the two are among nine members of a dangerous gang operating in Likoni and Diani which police are targeting.
"We want to finish them and that will mean Ukunda will be secure because they are the most dangerous group in south coast," said the source.
The source further alleged that the suspects are Somali returnees who are armed.
The police source added that one team is currently looking for a witchdoctor said to be helping the gang while another team is pitching tent in Likoni to recover an AK-47 stolen from a police officer in Diani in 2014 from suspects.
Two fire arms including an AK-47 were recovered from the two suspects.
National Intelligence Service source who refused to be named told the Star that a joint team of detectives in Diani are hunting for the gang members
The source said that the two were in a group of several other suspects who escaped including Juma Omar Mwakugula alias Bilal, a dangerous Somali returnee, armed with assortment of weapons.
"He has actively participated in the spate of terror activities within Diani Kwale County," alleged the NIS source.
Msambweni Medical officer of health Doctor Fatma Harji confirmed that the suspects' bodies were taken to the morgue for post postmortem.
"The two succumbed to several bullet injuries. One of the deceased was shot 5 times, in the head, mouth, hand and the back. The second one was shot 4 times, in the thigh, back, ear and chest," said the officer.
Msambweni OCPD Joseph Omijah said they will make all information on the matter public after investigations are complete.
"We don't want to jeopardize investigations because we are working on it," said Omijah.
– the-star.co.ke