Uhuru eyes investments in US conference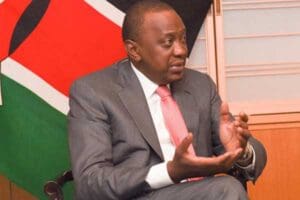 President Uhuru Kenyatta will be in the United States next week to attend the annual Milken Global conference in Los Angeles, California.
The conference is a premier gathering for world political and business leaders where they exchange ideas seeking to overcome some of the world's toughest challenges.
The President will address the Milken Institute Corporate and Investor Roundtable, which will be by invitation only on Monday April 27, from 7.30am to 9.30am.
He will also address the conference later in the evening from 5pm to 6pm.
This session of the conference is private and will be off the record. During the session, senior government officials, representatives of leading corporations and investors will discuss topics, trends and strategies related to increasing investment in developing markets.
Sub-Saharan Africa has seen direct investments grow by 600 per cent since 2000 while Africa is leaping into new technologies such as mobile banking.
Another Kenyan speaker will be Gachao Kiuna, CEO of TransCentury Ltd, an infrastructure company based in Nairobi.
President Paul Kagame of Rwanda will also attend the gathering.
He will address the conference during the same sessions as President Kenyatta.
Presidents Kenyatta and Kagame are expected to be the only foreign heads of state attending the conference, which is scheduled to run from April 26 to 29.
During his visit to California, President Kenyatta will meet with Kenyans living in the US on Saturday, April 25 at the Hilton Los Angeles Airport starting from 4pm.
-nation.co.ke