Alert issued over Shabaab suitcase bombs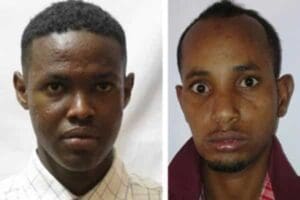 Security agencies have been placed on high alert following intelligence that Al-Shabaab terrorists have designed bombs that resemble suitcases which they plan to smuggle into Kenya.
The authorities have also released the photograph Musdaf Ismail Hashi, who is mentioned in the report as one of those dispatched by Al-Shabaab to bring in the bombs.
"Al-Shabaab are constantly coming up with new methods of concealing explosives. Following this discovery, police are alerting members of the public and especially those involved in public transport to be wary when they carry luggage. They should to carry out searches if they encounter any suspicious luggage," the intelligence report says.
Mr Hashi is a close associate of Ahmed Mohamed Abdullahi who in March was pulled out of a bus that was travelling from Mandera to Nairobi and a bomb that had been weaved into a briefcase seized from him.
He was arrested by undercover officers who stopped the bus at Makongeni in Thika.
The bomb was in various parts including detonating cords and blasting caps which were concealed in the handles of a suitcase, "providing a natural cover for the suspect to pose as a genuine traveller," according to the report.
More explosives were concealed in cosmetic containers.
The report added: "The explosives included RDX (44%), TNT (22%) and Potassium Nitrate (22%). This mixture was meant to cause damage five times greater than the 1998 US bomb attack."
Mr Hashi is believed to have escaped that dragnet.
"Security agents have intensified the fight against Al-Shabaab following the various attacks that the terrorist group has executed in Kenya. Part of the security efforts are aimed at ensuring that the operatives and explosives are intercepted before they get to their intended target," the report also said.
These two men are believed to have been carrying out the orders of slain Al-Shabaab commander Adan Garar but new leadership is believed to be taking forward his plans.
"Security agents had been hot on the trail of Adan Garar's associates. Garar was the mastermind of the 2013 Westgate attack. Garar and his associates were also linked to the vehicle borne improvised explosive device (VBIED) interdicted in Mombasa in March 2014 and the May 2014 Gikomba attacks.
"Garar was killed in a drone attack on March 12, 2015 in Somalia following collaborative efforts of Kenya security agencies with other governments," the report said.
Mr Hashi is believed to have gone to Somalia after escaping the security dragnet and a security source indicates that he had been dispatched to carry out more attacks in Kenya.
Besides the photographs of the suspects, the report also had images of the explosives recovered.
-nation.co.ke